What Is Audio Conferencing and Advantages and Disadvantages
Communication plays an essential role in the development of one company. Nowadays,more and more corporates are willing to adopt a variety of new technologies in order to produce an effective and efficient communication. And audio conferencing is such kind of new technology. The essay here will mainly elaborate the audio conferencing definition,as well as advantages and disadvantages of it.
1. What Is Audio Conferencing?
Audio conferencing is the conduct of an audio conference (also called a conference call or audio teleconference) between two or more people in different locations using a series of devices that allow sounds to be sent and received,for the purpose of communication and collaboration simultaneously.An audio conference may involve only two parties,or many parties involved at the same time. Audio conferencing can be conducted either through telephone line or the Internet by using devices such as phones or computers. If one only wants to listen,he/she just needs speakers. If he/she decides to speak as well,he/she may need a microphone as well.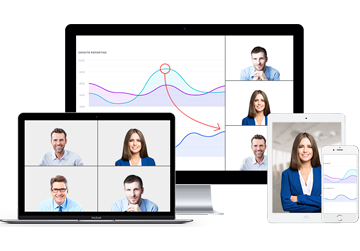 Free Audio Conferencing Tool
Up to 100 Participants
Fluent & Clear Voice
Join In from Desktop/Mobile/Web
Recording and Playback
Toll-free Service Available
FREE TO START NOW
2. Advantages of Audio Conferencing
Just like any other products or services,audio conferencing also has its advantages and disadvantages. The following are three key benefits of audio conferencing.
Audio conferencing is a cost-effective communication tool. In comparison to other means of conferencing,audio conferencing is a little cheaper. Meanwhile,you can also get a relative high quality of call by using audio conferencing system. It means that you can perfectly achieve you purpose of communicating and collaborating with your colleagues,customers and partners with a friendly price.
Audio conferencing is easily accessible. Audio conferencing is very accessible and easy to set up. By adopting a familiar technology,audio conferencing makes it easy to host a conference call through telephone lines. Besides,you can also enhance it by using devices such as computers.
Audio conferencing can save you a lot of time and money. As an employer,it is inevitable to have business trips or invest a lot of money in your employee to have business travel. Audio conferencing can be a practical alternative to business trip. You don't have travel around the country or the world to attend a meeting or seminar any more. Hence,it saves you a lot of time spent on the road and money for the trip.
3. Disadvantages of Audio Conferencing
Apart from the advantages,audio conferencing also has its downsides and drawbacks. The following are three obvious disadvantages of audio conferencing and its possible solutions.
The communication is only verbal. Studies show that effective communication is always non-verbal,yet audio conferencing is only verbal. The communication means doesn't support visual images,so you can't see and understand the facial expression,eye movement and body language of the attendee you are talking to. One way to solve this problem is to select an audio and video conferencing system to replace it. By just utilizing a free audio video conferencing software like ezTalks Meetings,you can easily host a voice and visual conferencing,which makes your communication and cooperation more productive,effective and efficient.
Audio conferencing cannot keep you focused on the meeting. Since you can see the visual images of participants during a conference call,so you don't know whether your audience is carefully listening to you or just sitting on the toilet. Under such circumstance,audio visual video conferencing from ezTalks is a great alternative to you. Voice & visual conferencing forces participants to focus on the task during the meeting because they are exposed to the camera.
The quality of conference call is not reliable. At times,the sound transmission may be of poor quality during the audio conferencing as it mainly relies on the telephone lines. The background noise can also affect the audio conferencing,or even cut you out.
Audio conferencing has brought a lot of benefits to people,especially in the business world. When the technology grows to a certain degree,it comes across its bottleneck. And then audio video conferencing industry springs up. After going over the definition of audio conferencing as well as its advantages and disadvantages,you will definitely find a right communication tool for your business.
You Might Be Interested in:
What Is Video Conferencing?-Definition and How It Works
A Brief History of Video Conferencing From 1964 to 2017
Advantages and Disadvantages of Video Conferencing