Top 5 Free Video Conferencing Services for Small Businesses
With the help of video conferencing technology,conducting an online video conference can be quite easy. You can use video conference call services to communicate with your customers,employees or partners no matter where they are. For small businesses,they would like to look for a low-cost or even free video conferencing software in consideration of their tight budget. In this article,we'll pick uptop five free video conferencing services for conducting effective online meetings,screen sharing and team collaboration,according to the number of participants.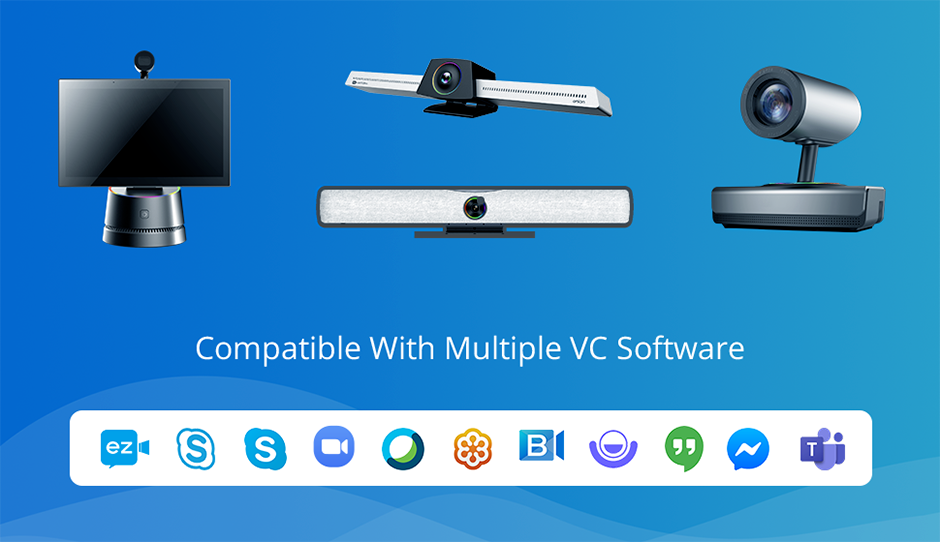 ezTalks Hardware
Supports Multiple VC AppsezTalks all-in-one video conferencing devices work with most popular VC apps like ezTalks,Skype for Business,Skype,Zoom,WebEx,GoToMeeting,BlueJeans,Lifesize,Google Hangouts,Facebook Messenger,Microsoft Teams and more as you require.Request A Demo1.ezTalks
2.Zoom Cloud Meeting
3. Fuze Meeting
4. Skype
5. ooVoo
1. ezTalks
ezTalks,a global leading video conferencing service provider,has the Meetings,Rooms and Webinars that could fulfill all the demands of video conferencing from any business. ezTalks Meetings has become the first SaaS solution provider in the world who offers such a great service. With rich features,ezTalks Meetings is perfect for SEMs and startups.

Price: free
Maximum meeting capacity: 100 participants,40-minute limit on each meetingc
Platforms: Windows,Mac,Android,iOS and browser
Main features:
It supports unlimited number of group meetings and cyclical meetings;
HD video &voice guarantee you to communicate in the meeting smoothly and efficiently;
One-to-one in-meeting chat and group chat for you to put forward your questions anytime;
Powerful screen sharing,application sharing and content sharing with support for Word documents,PowerPoint presentations,PDFs,movies and high resolution images;
Whiteboard service makes you easy to draw and make notes during the presenting;
Meeting control and user management,such as making attendees presenters so that they can give presentations in the meeting;
Special feature with ezTalks video conferencing equipment Onion supported.
ezTalks also takes pride in its cost-effective hardware solutions which can be regarded as open source platforms that are compatible with multiple VC software including ezTalks,Microsoft Teams,etc. Now,you can expand and upgrade your conference room with both such a piece of powerful all-in-one equipment and your current VC software at hand flexibly easily!
2. Zoom Cloud Meeting
Just like ezTalks Meetings,Zoom also provides a free version of cloud-based online video conference services,with up to 50 participants in one meeting. Besides video meetings,you can also use Zoom Cloud Meeting to host web conferencing,webinars and events. The free software also offers a great deal of features.
Price: free
Maximum meeting capacity: 50 participants,40-minute limit on group meeting
Platforms: Windows,Linux,iOS and Android
Main features:
It supports unlimited one-to-one meetings and unlimited number of group meetings;
Powerful video conferencing features like HD video and audio,full screen and gallery view or joining by telephone,and so on;
Great web conferencing features such as desktop and app sharing,personal room or meeting ID,and MP4 OR M4A local recording for playback later;
Some good group collaboration features,including multi-share,interactive whiteboard and keyboard or mouse control;
Communication security and privacy with SSL encryption and AES 256 bit encryption technologies.
3. Fuze Meeting
Fuze Meeting is another good free video conference call service provided by Fuze. You can easily attend the meetings without registration,or log in with your account to host video meetings with people anytime,from anywhere. The free plan of Fuze Meeting is also a good option for small businesses. It supports up to 25 people involved in a single meeting,and up to 12 video feeds.
Price: free
Maximum meeting capacity: 25 participants,no time limit
Platforms: Windows,iOS,BlackBerry and browser
Main features:
It offers group HD video conferencing with up to 25 people in distant places;
Crystal clear voice makes your online meetings smoothly;
Group chat and instant messaging during the meeting;
Effective content sharing,including any kind of format like PPT,Word,PDF,MP4,and etc.;
Permission to control the meeting,such as mute/unmute someone,or make one of participants presenter,and so on.
4. Skype
Skype is often known as a social software that people are using it to have a video chat with friends and family members. For small businesses,you can also adopt it to host business video meetings,because it is totally free. Using Skype,you can have make voice calls with up to 25 attendees simultaneously at a time,and video calls with up to 10 people.
Price: free
Maximum meeting capacity: 25 participants,Windows Phone and browser
Main features:
Skype-to-Skype calls or group audio calls for free with up to 25 people anywhere in the world;
One-to-one video calls or group video calls for a better communication and collaboration;
Rich messaging features,such as mojis and emotions,video or voice messaging,instant messaging or sending texts;
Screen sharing and sending files,photos and videos of any size over Skype;
Other features like Skype manager,Skype Connect and etc.
5. ooVoo
As an important video conferencing solution provider,ooVoo also provides video conference services free of charge. Users can utilize ooVoo to make video calling online,voice calls and send text messages. It is one of the best video communications tools for you to keep in touch with anyone you want. Before that,make sure your network connection is good and some necessary video conferencing equipment is well installed.
Price: free
Maximum meeting capacity: 12 participants,iOS and Windows Phone
Main features:
Group video chat and free voice calls make you possible to conduct efficient online meetings;
It also offers text and instant messaging in the meetings;
Recording the video call and view it again after the meetings;
Powerful screen sharing for you to make a good presentation;
Sending files relevant to the meetings to other participants.
You Might Be Interested in:
5 Free Video Teleconferencing Services: Which Is the Best for You?
5 Best Free Video Conferencing Services to Challenge Skype
Top 5 Best Free Group Video Conferencing Software for 2017
Top 4 Free Video Conferencing Tools