The Top 5 PTZ Video Conference Camera
At present,videoconference systems are perhaps the most effective way to allow meetings between individuals in different areas. To make it more effective,aPTZ conference camera exerts a great influence. It enables to generate HD images as well as audio so that youcan hold real-time conversations between individualsor groups from different nations simultaneously. How to choose the best one in the market? In the subsequent paragraphs,we have thrown light on the top 5 PTZ video conference cameras out there.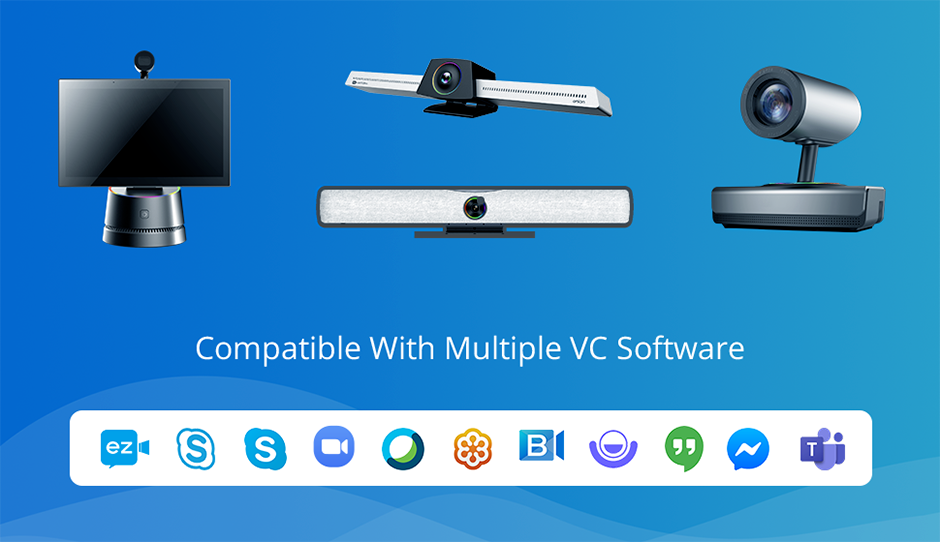 ezTalks Hardware
Supports Multiple VC AppsezTalks all-in-one video conferencing devices work with most popular VC apps like ezTalks,Skype for Business,Skype,Zoom,WebEx,GoToMeeting,BlueJeans,Lifesize,Google Hangouts,Facebook Messenger,Microsoft Teams and more as you require.Request A Demo
1. ezTalks Meet X
ezTalks Meet X is an incredible wireless conference room camera with PTZ which is actually intended for the medium as well as large conference locations. The manufacturer happens to be a top-quality producer of innovative conferencing solutions over the years.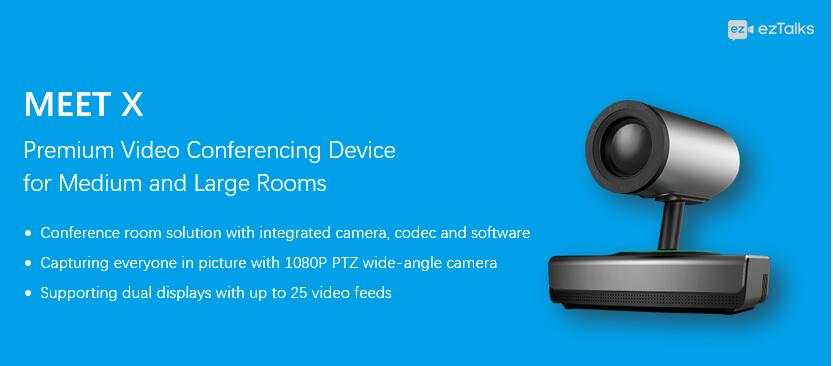 Main Features:
a) It is an open source platform allows users to install their preferred video conferencing software like ezTalks,Microsoft Teams,etc.
b) This revolutionary device features a premium quality 1080P PTZ video conferencing camera,an application for producing outstanding image quality as well as a top-quality CMOC sensor. All these help the device to stay ahead in the competition.
c)Itsupports flexible rotation and also comes with a powerful lens which is able to capture details in the larger areas too. In fact,this astounding device is appropriate for classrooms,large conference rooms,healthcaresettings,auditoriums as well as other professional settings wherethe high-resolution and clear video is required.
d)The amazing device likewise includes an inbuilt codec that helps to support software decoding,hardware encoding,plus hardware coding as well. All these beneficial aspects help the camera to produce a smooth and pleasant experience during a video conference.
Pros:
a) Extremely simple to set up and useso thatalmost anyone can do it without any problem at all.
b)Easily enable the user to capture even minute details with absoluteprecision even in a large space,increasing the meeting flexibility and comfortableness without crowding all the attendees into a tiny space.
c)Deliversremarkable video/image performance.
d)Comes with a fantastic dual displayto meet various presentation needs.
Cons:
No cons as such.
2. Logitech Pro 2 Video Conferencing Camera
The amazing Logitech PTZ Pro Video Conference Camera offers top-quality optics as well as almost life-like video calls which will make the individuals believe that they're sitting in the same room during the conference. It produces professional high-quality video clips with crystal-clear image resolution,improved color reproduction,as well as high-definition videos. Apart from this,improved facilities of pan/tilt as well as motor performance will aid in a smoother movement from one place to another. It is also quite easy to visualize everybody clearly thanks to the wide FOV feature of the camera. In a nutshell,outstanding color production,image resolution,along with almost 100% optical accuracy helps to make the Logitech PTZ Pro 2 an appropriate selection for any large conference room out there.
Pros:
a)Produces outstanding 4K Ultra HD video.
b) Makes it possible to get the best results under any condition when it comes to illumination.
c)Provides a cutting-edge facial recognition application which supports automated login.
d)Enables the user to regulate the visual environment effectively.
Cons:
a)Somewhat difficult to install.
b)Recorded audio tends to sound a little muffled at times.
3. Lifesize Icon 700
This PTZ video conference camera from Lifesize is yet another outstanding product of the ever-reliable and immensely popular Icon series which has been serving the customers for quite some time. Incidentally,itis said that it is the world's first 4K resolution video conferencing system in terms of both content as well as video streams which lead to remarkably clear and sharper images. Apart from this,the innovative ultra-wideband audio codec Opus-Audio helps to produce good audio quality with relatively effective speech pick up and noise minimization. This video conference PTZ camera helps to produce improved light sensitivity along with 20x optical plus digital zoom for effortless and smooth video conferencing.
Pros:
a) Itcan be operated with the help of the Lifesize Phone HD touchscreen.
b) Generatesclear images.
c)Provides HD video and is quite easy to configure and set up.
Cons:
a)According to some past users of this product,the camera is somewhat difficult to use,particularly for the first time users.
b) Tends to be a bit pricey as compared to the other similar products on the market.
4. AVer CAM520 PTZ Conference Camera
The Cam520 enables the users to customize their conferences by storing up to 10 PTZ presets. It is feasible to access each of these presets by touching the remote only once which aids in saving a considerable amount of time and also providing flexibility so as to quickly shift to any specific location inside the room. The cameraalso boastsof top-notch in-built integration capabilities,for instance,the cutting-edge VISCA support plus an RS-232 port which help the users to operate the camera by means of an innovative AV control panel. Last but not least,you can likewise select the audio subsystem that you like to use for your webinars,broadcast meetings,streaming,as well as video conferencing calls.
Pros:
a)The camera enables the users to store up to 10 PTZ presets.
b)The user can choose the audio subsystem that he likes to use for the video.
c)An astounding resolution of 1920 x 1080 willbring everyone in picture and grasp the details clearly.
Cons:
a)The device is unable to record any area which the camera is not flexible enought to lookat.
b)Maydeliver a poor image quality in case the camera is zoomed in.
5. GV-PPTZ7300 Panoramic PTZ IP Camera from Geovision
This product happens to be a comprehensive 2-in-1 1080PIP PTZ camera conference device that comes with an innovative fisheye 5 MP panoramic camera along with a 2 MP IP Speed Dome. It will be possible to track every angle of the location thanks to the breathtaking fisheye camera whilst the only a single click on the live fisheye view will enable the speed dome to point toward a particular area instantly. Apart from this,it will be possible to view live proceedings and also make use of functions like privacy mask,motion detection as well as alert notification by means of Web interface.
Pros:
a)Comes with a greatfisheye camera with an inbuilt PTZ speed dome.
b)10x optical zoom and 32x digital zoom.
c)2-way audio.
d)A couple of integrated micro SD card slots for local storage.
Cons:
a) A bit pricey as compared to the other similar models on the market.
b) Not specially devoted to video conferencing.
Conclusion
Overall,the ezTalks Meet X happens to be arguably the best PTZ conference camera at present. This remarkable camera is ideal for all those who are looking for top-quality video with fantasticframe rate,color,resolution,and details for video conferencing. This product from ezTalks also offers advanced HDR,remarkable clarity,fantastic low-light performance,top-notch design plus superior security features. However,there are other reliable PTZ camerasin the market that you cantake into consideration. Bear in mind to perform adequate research before picking the ideal one for you.