The Best 5 Alternatives to Yamaha 700
The implementation of technology in business environments has created clustered meetings. Known as huddle rooms,they are made up of between 6 and 8 people. These meetings are ideal for brain storming,idea sharing and presentation. The members of huddle rooms may want to connect with people from other parts of the country of the world. For this purpose,they use video conferencing systems which combine audio,video and Internet connectivity. An excellent example of such a system is the Yamaha CS-700. Here is more about it and 5 great Yamaha 700 alternatives.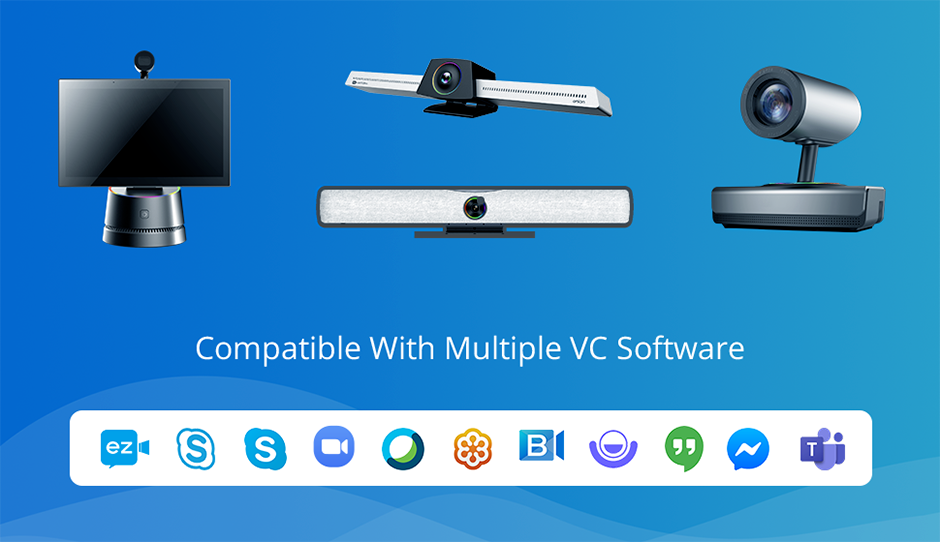 ezTalks Hardware
Supports Multiple VC AppsezTalks all-in-one video conferencing devices work with most popular VC apps like ezTalks,Skype for Business,Skype,Zoom,WebEx,GoToMeeting,BlueJeans,Lifesize,Google Hangouts,Facebook Messenger,Microsoft Teams and more as you require.Request A DemoThe Yamaha 700 is a video conferencing system that is specially developed for huddle rooms. By providing video and audio,this system facilitates team collaboration. It comes as a large,rectangular bar with its camera,speakers and controls on the front. It can be connected to a computer monitor or a smart TV. The Yamaha 700 provides audio,video and Internet Connectivity interfaces. They facilitate seamless communication between the huddle room and the remote stakeholder.Features* A 120 degree ultra-wide angle camera* Beamforming microphone* 4-element speaker bar* SIP and USB support* Supports business applications such as Zoom,Skype for Business and Google ChromeboxThe Yamaha CS-700 costs $1,299.00.Discover some alternatives to Yamaha 700
1. ezTalks Meet S
The ezTalks Meet S is a video conferencing device which combines a camera,microphone and speakerphone. It also has an IP interface. As such,you can use the ezTalks Meet S to connect to the Internet and use a specialized Cloud-based video communication service. The ezTalks Meet S combines innovative audio and video solutions to make your huddle rooms seamless and successful. This is one of the top alternatives to Yamaha 700 because it has maximized connectivity options too.
Features
* Built in 1080 pixel camera offering 120 degree angle of view
* Embedded dual-microphone with echo cancellation
* HDMI connectivity for computer monitors and smart TVs
* High Definition (HD) Speakers
* USB ports for connecting smart devices or the T-Voice 100
* Wireless connectivity
* Great compatibility: Compatible with multiple VC software including ezTalks,Microsoft Teams,etc.
The ezTalks Meet S is available at a cost of $699.00. A Professional subscription to its complementary Cloud platform is also available at $12.99 per month. This video conferencing setup provides advanced technologies in a compact package. Users also have access to 24/7 email,phone and livechat support. Hence,it is ideal for huddle rooms.
2. Logitech BCC950
The Logitech BC950 is a video conferencing system that combines a speakerphone and a webcam. It is versatile and can be used for video conferencing or Unified Communications (UC). The unit is designed such that the camera has an eye-level height. Moreover,the unit can be controlled using a dedicated remote controller. The speaker is embedded in the base of the unit. There are also some tactile controls on the base.
Features
* It has a futuristic design that is the most attractive of all the alternatives to Yamaha 700
* The base combines controls and the speakerphone in a tasteful way
* The High Definition (HD) camera is held on a 21cm stand
* It has extended connectivity through a USB 2.0 port and a hard-connected USB data cable measuring 8 feet
* The controls allow you to manipulate this video conferencing system in various ways. You can pan,zoom,tilt,answer video calls,hang up and manipulate the volume as well.
You can get the Logitech BC950 for $249.99.
3. Logitech ConferenceCam Connect
With a beautiful,sleek design,the Logitech ConferenceCam Connect is ideal for video conferencing on the go. The unit is ideal for huddle rooms and is one of the best Yamaha 700 alternatives. It is lightweight,highly portable and can even be run on battery power. It is also easy to use and combines a High Definition (HD) camera,microphone and speakers. Here is more about it.
Features
* It has a beautiful,slick design with a cylindrical shape. It is available in silver or red colors.
* It has a remote controller
* It is highly portable
* The device has a compact design which combines a 3 MP camera,microphone,speakers,remote controller and battery all in a cylindrical casing
* Its camera has a 90 degree angle
* When running on battery power,it can keep going for up to 3 hours
* You can connect it to your PC of other peripherals using a USB cable.
* The Logitech ConferenceCam Connect can beam video using screen mirroring and audio through Bluetooth
* It is compatible with a wide range of computer operating systems
The Logitech ConferenceCam Connect is available for only $358.98.
4. Cisco Precision 60 Camera
This is a video conferencing setup that is ideal for huddle rooms. The Cisco Precision 60 Camera allows you to achieve high quality video,audio and connectivity. The unit is designed to deliver crystal clear audio-visual content. Its specifications make the unit highly versatile. As such,it can be used in small meetings as well as very large ones. It has multiple connectivity facilities hence it can be combined with computers and smart TVs quite easily. Here is more about this example of Yamaha 700 alternatives.
Features
* Crystal clear video and audio
* Adaptive settings for small to large rooms
* It has a 1080 pixel High Definition (HD) camera with a 2x digital zoom
* It can be connected to a computer or network using an Ethernet cable using the RJ45 port
* It is easy to set up
The Cisco Precision 60 Camera is available at a price of $7,717.00.
5. Logitech Meet Up
The Logitech Meet Up videoconferencing camera is ideal for huddle rooms due to its versatile nature. The device can be used in small to large rooms quite effectively. It combines speakers,a camera and a microphone. The unit is compact in size and has extended connectivity thanks to a variety of ports. You can even manipulate it using a remote controller. Its light and small form factor makes this videoconferencing camera ideal for startups and medium-sized companies.
Features
* It has an UltraHD camera capable of capturing 4K,wide angle video
* The unit has a full-duplex audio speaker system
* It can be controlled remotely using a smartphone application
* Its setup process is easy to perform
* It can be connected to a laptop or a PC using a long,16 foot USB-C to USB 2.0 cable
* It comes with a wall-mount kit
The Logitech Meet Up videoconferencing camera is available at a cost of $1258.74.
Conclusion
Huddle rooms are the most contemporary method of business collaboration. They allow every member present to have an equal,noticeable and strategic opportunity to make contributions. There are videoconferencing devices and setups that are ideal for this type of meeting. The best examples of Yamaha 700 alternatives are described above. Out of these,the ezTalks Meet S is the most ideal. It is affordable and easy to use. Furthermore,it can be integrated with a Cloud platform for better information and business process management. Simply head to its official website and buy this videoconferencing system. It is a great investment with long term returns for your company!