Outlook Plugin for Windows Version 3.5.2
ezTalks has published a new version for Windows which support Microsoft Outlook plugin. With this new feature,users can schedule a meeting,inviteattendees and start/join an instant meeting directly from Outlook.
Part 1. What are the benefits of using Outlook Plugin?
The ezTalks Outlook Plugin is designed to make scheduling a meeting in Microsoft Outlook quicker and more convenient. Once you installed the Outlook plugin and the ezTalks app,you can directly schedule a meeting and invite your attendees from Outlook,instead of logging into the ezTalk app. Moreover,you can easily start an instant meeting or join a meeting straightaway from Outlook. Lastly,you can schedule your meetings on your Outlook Calendar,which allows you to easily invite attendees and remind you before the events.
Part 2. How to use the Outlook Plugin?
It is quite easy to use the Outlook Plugin to schedule meetings and invite attendees.
1. Download theezTalks Outlook plugin for Windows.
2. Open your Outlook and you can see the ezTalks Options which allows you toschedule a meeting,start an instant meeting/webinar,or join a meeting/webinar directly from Outlook:
3. You can also open the Outlook Calendar and make anappointment by scheduling an ezTalks meeting and inviting your attendees.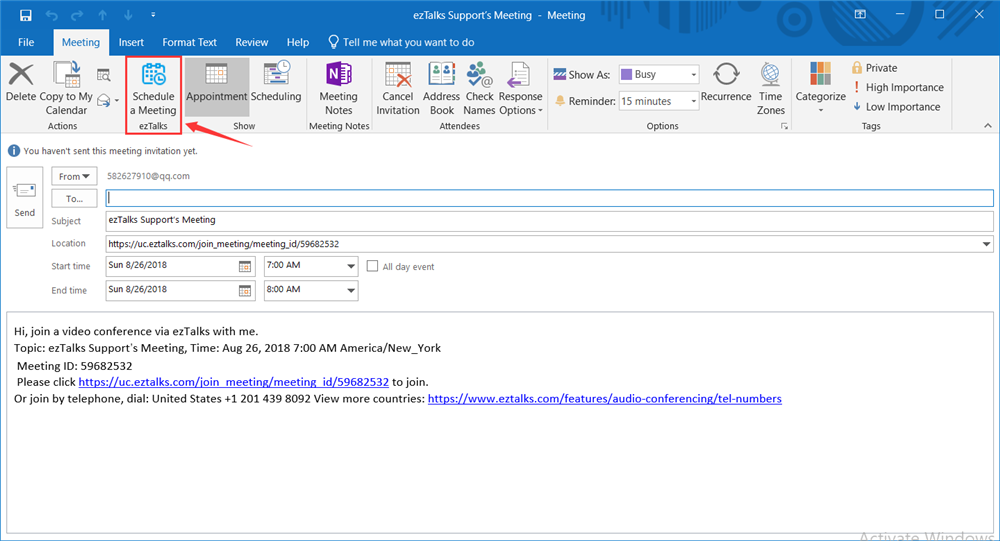 Learn the detailed steps of how to use the Outlook plugin.
Download the ezTalks app and the Outlook plugin to enjoy the feature now!