How to Set up Zoom Rooms Kits for Your Conference Room?
Zoom Room Kit has been a hot word in the video conferencing market since the company Zoom Video Communications went public this April on the NASDAQ. The great capability and innovation have driven users to choose the Zoom software over other options. The Zoom Rooms is designed as the cloud-based conference room solutionwith flawless video,integrated audio,and wireless content sharing. While as the software for meeting rooms,Zoom Rooms requires to purchase other brands ofvideo conferencing devices to complete the conference room setup. Different sizes of conference rooms will require different devices and the setup may be different. In order to clarify the details,this article introduces how to set up Zoom Rooms for your meeting room.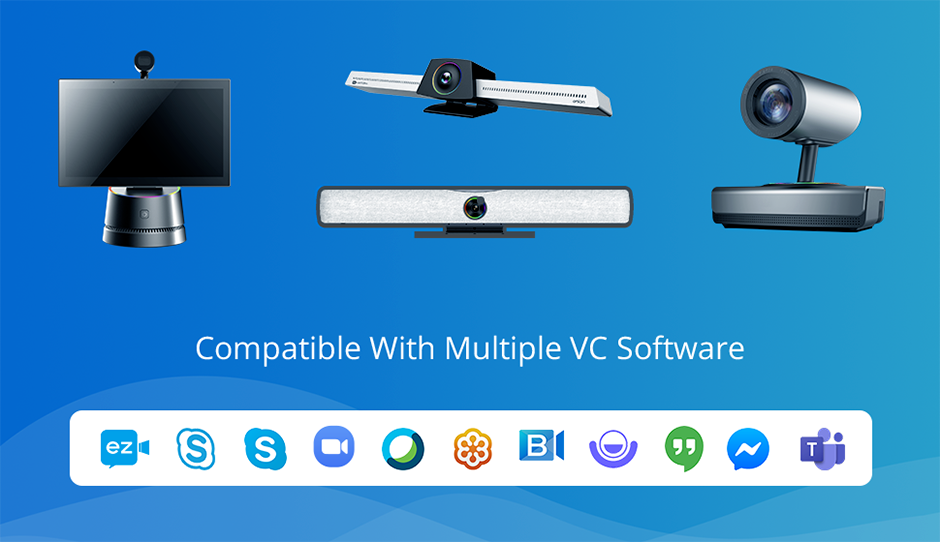 ezTalks Hardware
Supports Multiple VC AppsezTalks all-in-one video conferencing devices work with most popular VC apps like ezTalks,Skype for Business,Skype,Zoom,WebEx,GoToMeeting,BlueJeans,Lifesize,Google Hangouts,Facebook Messenger,Microsoft Teams and more as you require.Request A Demo
Zoom Room Hardware Requirements
Let's first get to know the devices that needed for the setup as suggested from Zoom:
a) Conference room camera
b)Conference room speaker
c)Microphone
d)Computer (to run meetings and keyboard for initial setup)
e)Big screen display (an HDMI-supported TV works just fine)
f)Touch controller (iPad is ok)
Or to make the setup simple and easy,we will use the all-in-one devices to introduce the setup and these methods are highly recommended since it saves time and budget for our IT admins and easy to maintain.
Zoom Room Kit for Mini Rooms
Let's take the portable Meet Mini as the zoom room hardware to follow the mini room setup. Actually,it is quite easy and you just need to set up the ezTalks Meet Mini since the Zoom app is already pre-installed in this device. So you just need to take out the device out from the box,connect the power cable and Ethernet cable,and then press the power button. It is all done!
The powerful Zoom app allows you to host meetings with HD video and audio,multiple collaboration tools,Recording and transcripts,calendar integration,instant messaging,etc. The ezTalks Meet Mini is quite cost-effective since it is portable with all that you need for video conferencing including camera,speaker,mic,code and screen. The setup becomes super easy as this all-in-one design.
The cost of this Zoom Room Kit is only $699 (not include Zoom Software subscription fees) which is quite affordable for small business or start-ups. Besides the device also work with other popular video conferencing software including ezTalks,Microsoft Teams,etc. Switch to any option you like.
Zoom Room Kit for Huddle Rooms
The next to mention is the huddle conference room solution,which is the most popular meeting space since it offers great flexibility for prompt meetings. We will use Meet S,also the all-in-one video conferencing device as the Zoom Room hardware for the setup guide. So we need a Meet S and a TV (or other big screen display) and that's all. Zoom Room Kit setup is also easy due to its all-in-one design with only three steps needed: Take device out of the box and connect power cable and Ethernet,then connect the HDMI with the TV. Yes,it's done then! The zoom app is also pre-installed in Meet S and you can follow the guide to use this Zoom Room Kit now.
The Meet S only cost $899 and you get the all-in-one device as well as other VC apps including ezTalks,etc. Users are able to choose any one they like and no more worry about the compatibility between software and hardware. If you would like to expand the audio experience,there are many speakerphones recommended like M310 or T-Voice 100which enhances your audio in the room. Easy and flexible,just like your meeting experience with this zoom room kit.
Zoom Room Kit for Small Rooms
If your room needs to capture up to 12 people and then you should choose Zoom Video hardware that suits your needs. Meet Prowill be the ideal option as its quick setup and configuration process. Like the above mentioned Meet S,this one comes with the speaker,camera,codec and multiple video conferencing software including Zoom. Only three steps needed and your room is well set up.
The Meet Pro only cost $1299 and the audio & video performance is augmented for up to 12 people with clear and HD meeting experience as well as ePTZ control camera. Like Meet S,Meet Pro is also compatible with other VC apps including ezTalks,etc. Users are able to choose any one they like and no more worry about the compatibility between software and hardware.
Same way,you can add speakerphones for your small room if you would like to capture every detail you like. The wireless speakerphone M310 is recommended since you just need to connect the wireless USB to the Meet Pro and that's it.
Zoom Room Kit for Middle Rooms
The next to mention is the zoom room kit for middle room. This zoom room hardware and software allow up to 20 people in the meeting room. To make it simple and easy,we still select the all-in-one device (since it is cost-effective,why not select this simple solution?). Meet Plus for Zoom Rooms Windows Client is quite easy to set up and actually the process is the same as that of Meet Pro and Meet S. One thing different is that you need a controller to control the meeting (iPad is ok).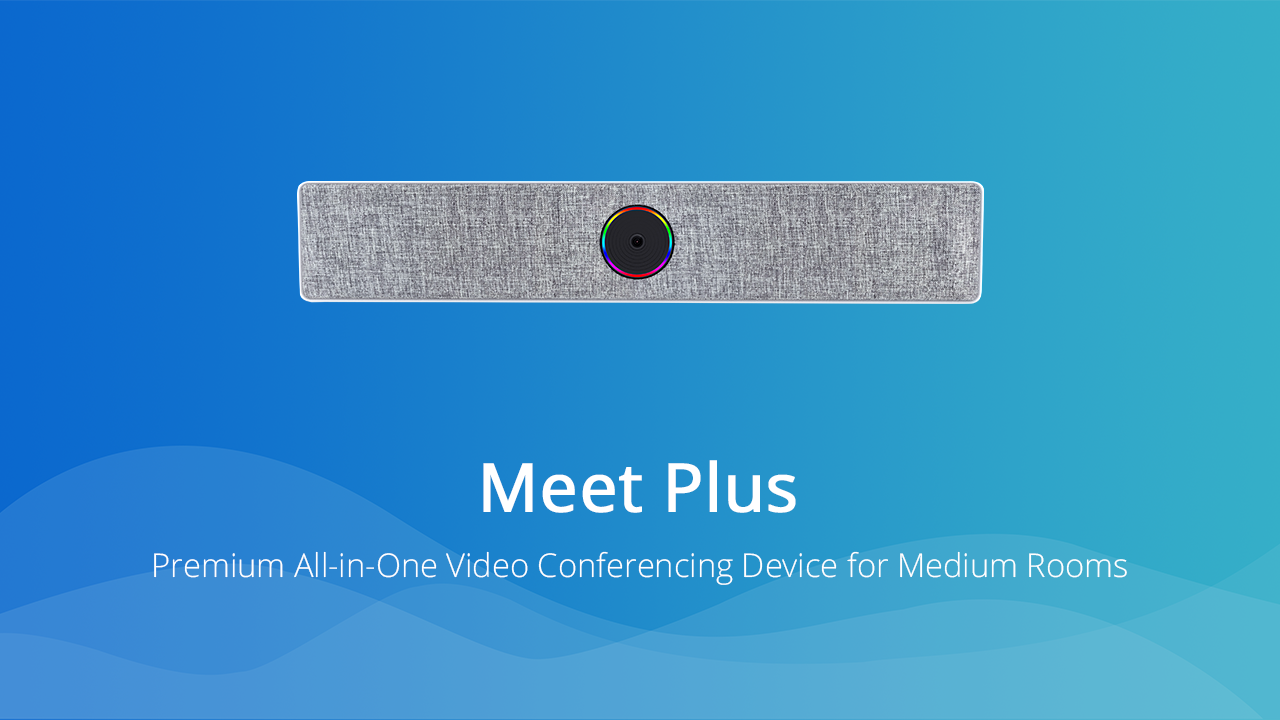 The Meet Plus only cost $2899 and the audio & video performance is enhanced for up to 20 people in the meeting room. The sound pick up range is 6 meters from all directions so that everyone can be heard. It is also compatible with other VC apps including ezTalks,etc. High compatibility makes it unique and ezTalks Meet Series allow users to use the video conferencing platforms as a gateway to communicate with anyone with a matching account.
The professional speakerphone M410 is recommended with its wide range and unique 3D gesture control. Connect the plug and play USB cable and you can enjoy the premium video conferencing experience.
Zoom Room Kit for Large Rooms
The next is the Zoom Room Hardware for rooms that consists of more than 20 people. In this case,it is very difficult to use the all-in-one devices because of technology limits. The video and audio quality are the most crucial part of the Zoom Room setup. The Meet X is the option that integrates with camera,codec and multiple VC apps. To set up the Zoom Room Hardware,you need a Meet X,an external speakerphone (Take M410 as an example),displays (it supports dual display) and Touch controller (iPad is ok).
Steps to Install Zoom Room Kit:
a) Connect the Ethernet cord,two HDMI cables from TV (you can connect one if you just need one TV),and connect M410 USD receivers,another receiver for mouse and keyboard,and the power;
b) Press the power button for 3 seconds to get it started. Meet X turns the TV into a Windows PC with a PTZ camera.
c) Open Zoom Rooms on the desktop and use the controller to start experiencing a seamless video meeting with Meet X.
The Meet X only costs $2399 and it could host video conferences with more than 20 people and support dual displays with 25 video feeds. The 1080P PTZ Camera with 12X optical zoom increases meeting flexibility and capture everyone on screen with 78.8-degree wide-angle lens. Like other Meet SERIES,Meet X is also compatible with other VC apps including ezTalks,etc. Great flexibility and availability are created when you are trying to contact your partner with a different platform. No hardware changed needed and one is for all.
These are the easiest and most affordable zoom room kit setups and also apply to most popular video conferencing platforms in the market because the great compatibility ezTalks Meet Series.Want to know more,click here for more details to fulfill the needs of your business.