How to Select the Right Meeting Room Equipment
In this world of technologies,you will find millions of options for the conference room equipment. If you want to buy the best meeting room equipment,first,you will have to go through your requirements and then choose the one that can fulfill all your demands.
You can consider some reliable video conferencing vendors like ezTalks to get some developed features at an affordable price. But while choosing any meeting room equipment,you need to ensure that the service is able to fulfill all your demands. If you are looking for some help to choose the right meeting room equipment,you can go through the followings. In this article,you will come to know about some essentials that you will need for a conference room equipment setup.
All-in-One Solutions for Different Needs
When picking the equipment for video conferencing needs,you must have consideredmany factors. You will find many like meeting room sound equipment,meeting room presentation equipment,wireless meeting room equipment,meeting room recording equipment,meeting room display equipment,meeting room technical equipment,and meeting room audio visual equipment. But have you ever thought that if you possess an all-in-one solution,you can be no longer confronted with several trivial aspects? Here are some outstanding all-in-one solutions for your needs.Meet MiniMeet Mini makes you let alone complicated cables now!It is easy to use as it boasts of the unique all-in-one design including a touch screen,HD camera,coder,microphone,speaker,WiFi,built-in battery and software.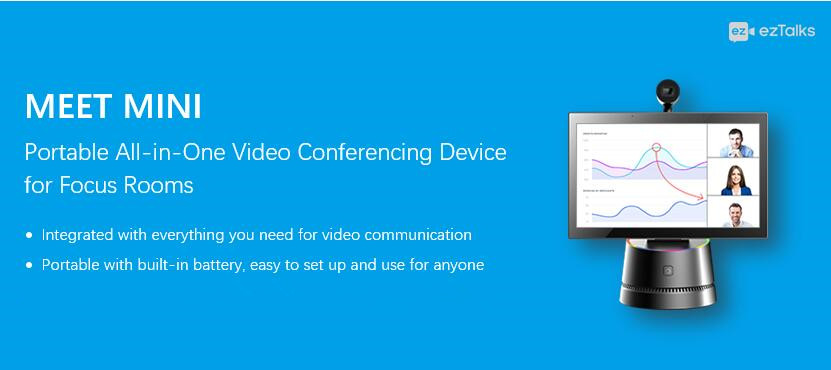 Features:a)11.6'' full high-definitiontouch screen
b)Professional 1080P HDwide-angle camera
c)Excellent high-fidelity soundquality
d)High-performance processor ensures seamless audio/video effect
e)Support simultaneousdisplay in dual screen
f)Can use for telepresence as it has far-end control functionMeet SMeet S is not any ordinary webcam that takes the life out of a meeting,but an all-in-one video conferencing equipment for huddle room,which makes you feel that the other team is seating in right next to you.

Features:a)All-in-one designintegrated with camera,microphones,codecs and dedicated software
b)Ultra HDvideo &audio
c)Three steps to install(very convenient and easy even for those who are not familiar with such kind of equipment)
d)Control as you want(can control and manage your room via desktops,laptops,tablets,Macs,mobile devices and T-Voice 100)Meet ProMeet Pro is also an all-in-one solution for small rooms which is integrated with HD camera,codecs and software,helping to provide a remarkable face-to-face collaboration.

Features:a)High-performanceprocessing technology
b)Unmatched videoqualitythanks to the ePTZ control,4K sensor and wide-angle lens
c)Praiseworthy audio performance thanks to the 4 far-field linear microphone arrays with 5-meter sound pick up range
d)No need to worry about the installation processsince it is quite easy to handle
e)Can control as you wantlike that of Meet S
Control System
Control system is essential as it ties all the mechanisms together and controls everything with a simple touch of a button. You need to choose a device that can be programmed easily. Moreover,it needs to have different modes of presentations including video conferencing,audio conferencing,live streaming,and video watching. Make sure that the temperature,background,sounds,lighting,and shade will be easily controlled depending on the demand of the meeting room. With an easy-to-operate controlling system,you can arrange the meetings more comfortably.
Compatibility with Devices
Make sure that your meeting room equipment supports all the devices at the end points. Other attendees might be using different mediums like mobile and desktops. Therefore,you need to choose high tech conference room equipment that can seamlessly connect with the different type of the video and audio conferencing systems. For those looking for high-quality meeting room video conferencing equipment can consider something with stereo sound systems,voice-locating cameras,and HD monitors.
Telepresence
For an improved and flawless experience,you will need many essentials that include a camera,screen,speakers,and network. You can get all these both from the paid and free vendors like Skype and ezTalks. If you want an uninterrupted service and the best quality audio and video,you need to choose the equipment that offers improved security systems to protect the data and all important files that you will keep sharing during the meeting. Moreover,make sure that it is available for 24/7. You need to choose the conference room AV equipment that can easily come within your budget and also able to meet your business needs.
Audio
Good sound quality is the first requirement for a conference room equipment setup. You should not prefer a conversation that will echo or will cut off during the meetings. To achieve the best quality sound,you need to choose good speakers. You can choose the one that comes with a long warranty and has received good feedback for the better quality sound and durable result.ezTalks now proudly provides different kinds of conference room accessories for a better audio performance like M310/M310 Pro and M410.
Network
Without the necessary network,the meeting will not offer you the desired result. Before planning for a video conference,you need to upgrade the system with the required bandwidth. You can also consider an in-house solution to have a better experience.
Lighting
Shading and lighting might not be included in the conference room AV equipment. If you ignore these two important factors,you might face difficulties during the conference. The shading and the lighting of the conference will decide how you need to program your system and what projector and screen you are going to use for your conference. You need to take all these things into account and make the required changes to ensure that it will go well with your AV integrator.
Screens
You will not find unlimited options when it comes to the screens. The options will be a few and you need to choose the one depending on the size of your room. For example,if you have a small room,you can choose a small screen that can be easily visible. For the large rooms,you will need large screens. While choosing the screens,you need to consider the lighting of the room to get the best visibility. If you have a lot of uncovered glass walls and skylights,it will be ideal to use TV screen. If you want to get the bright image with a projector,particularly for the large rooms,you might need a good quality and high-lumen commercial projectors. These projectors are expensive. But you will find it worth spending if you consider the overall benefits.Here is a good device for cutting-edge dual screen.
Meet X
Meet X helps you to turn your medium and large rooms intovideo meeting spaceseasily and quickly. It adopts a highly integrated 1080P PTZ camera with flexible rotation. The greatest selling point is that this device is that it supports dual display for an immersive meeting experience. One display can be used for in-room presentation sharing while the other is used for engaging with the active video participants in the meeting. It allows sharing up to 25 video feeds at the same time. You can set it up in various installation ways.

Conclusion
These are a few things that you need to go through while considering meeting room equipment or conference room audio visual equipment. It is also suggested to go with improved technologies to make it flawless and more effective.
You Might Be Interested in:
Portable Video Conferencing Equipment Brings Flexibility to Meetings
All-in-One Video Conferencing Equipment List
What Video Conferencing Equipment Is Needed for Small Businesses?
ezTalks HD Video Conferencing Equipment Makes Your Meetings Affordable