A Brief History of Video Conferencing From 1964 to 2017
Video conferencing refers to the conduct of an online meeting between people in different locations through two-way audio and video transmissions. To put it simply,it is like a conversation between two persons (point-to-point) or more people (multipoint) gathering together in a virtual meeting room in order to communicate and collaborate in real time.
Besides the audio and video transmission,the cutting-edge technologies expand its functionalities,like screen sharing and file sharing,etc. Then,how is video conferencing developed and what is history of video conferencing technology? Here we will briefly talk over the history of video conferencing from the beginning to the present.
1.1960s-The first video call appeared in 1964.
Early in 1956,AT&T started the research of Picturephone prototype which was able to transmit images (1 frame/2 seconds) over analog PSTN (public switched telephone network) telephone lines. Finally in 1964,the company first introduced Picturephone at the World's Fair held in New York,which gave opportunities for attendees to make a video call to the one in the other place. A caller could not only hear the voice on the other side of the line,but also could see his/her picture. Then the concept of video conferencing appeared.
2. 1970s-The early stage of video conferencing.
AT&T began using video conferencing for its Picturephone service in the early 1970s. However,this new communication means was too costly to be reached by most people. Besides,the equipment also existed some problems,such as bulky body,difficulty of use,etc. More importantly,the photo was so small and blurred.
3. 1980s-Video conferencing developed slowly.
In 1982,another company Compression Labs released the first video conferencing system,which was huge and expensive,either. However,it was the only video conferencing system available until 1986 when the company PictureTel hit the market with their much cheaper video conferencing system.
4. 1990s-Video conferencing continued to grow.
In 1991,PictureTel collaborated with IBM to introduce the first PC-based video conferencing system with relatively reduced costs. Since then,a new chapter in video conferencing industry had begun. Unluckily,at the stage,a well-equipped conference room was required and its rent was overpriced.
In 1992,Macintosh released CU SeeMe v0.1,a video conferencing software for the personal computer. The first version had no audio,but it was the best video system at that time. The system increased multipoint capability in 1993 and audio transmission in 1994. But it was only limited to Mac users. Until 1995,the new CU SeeMe was released after so many reversions by developers,which was compatible with Windows (Windows were the most popular operating system at that time). By then,video conferencing was available to almost anyone with a PC.
5. 2000s-Video conferencing embraced its boom.
During the 2000's,video conferencing became available for free through the Internet services like Skype and iChat. In 2000,Samsung launched the first MPEG-4 streaming 3G (CDMA2000) video cellphone. In the same year,International Telecommunications Union - Telecommunication (ITU-T) released H.323 v4 that was widely implemented by video conferencing manufacturers. In 2005,Lifesize introduced the first HD video conferencing system.
Other technologies and applications also enter into a flourishing stage,such as the application of SIP protocol,and private protocols from software-based video conferencing vendors; the appearance of video compression standards like H.264,H.265,etc.
6. 2010s- Cloud-based video conferencing and mobile devices.
Today,there are plenty of various video conferencing systems and solutions in the market. Video conferencing solution providers like ezTalks have put video conferencing to the Cloud,which makes video conferencing cheaper and convenient. This is also a new trend of video conferencing in the future. By using video conferencing services,businesses and users across the world could easily start or join a video meeting face-to-face anytime anywhere on desktop or their mobile devices like laptop,smartphone or iPad,etc.
You can also get a brief introduction on the history of video conferencing from the following infographic: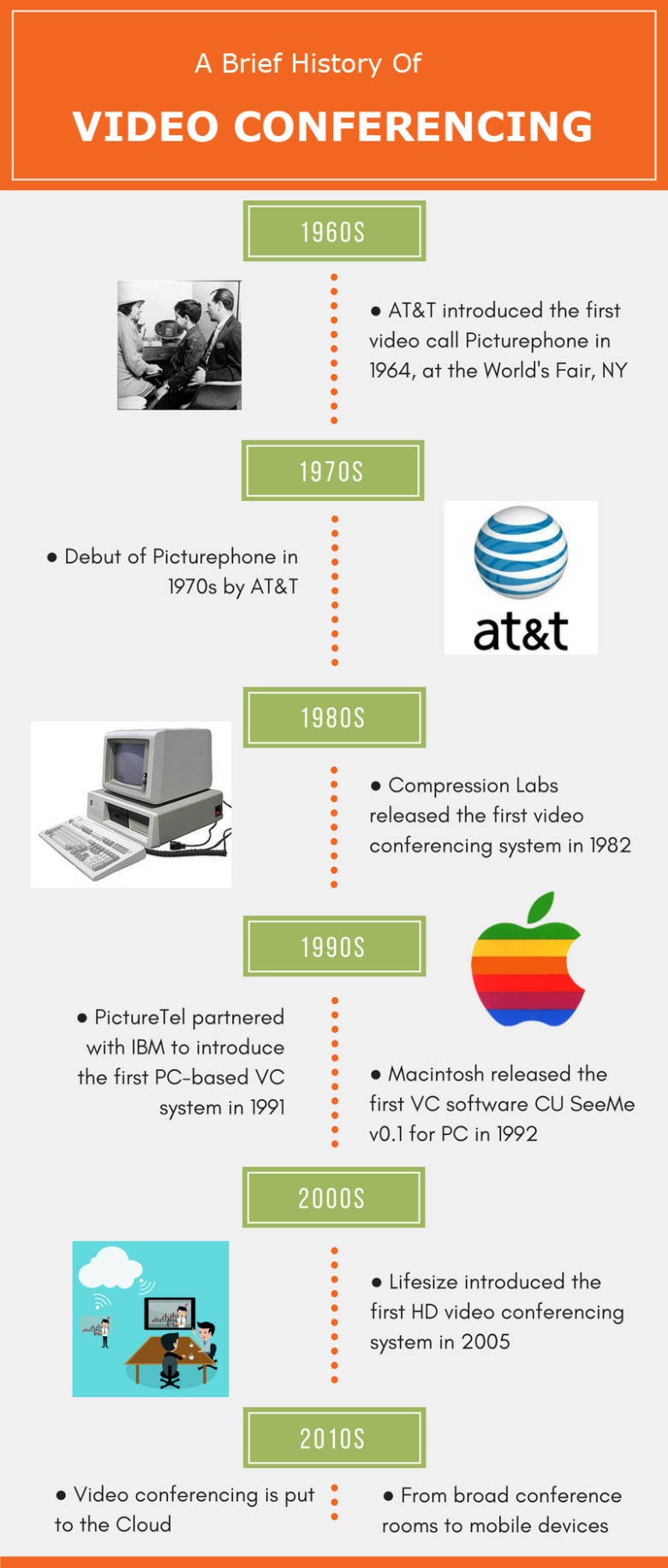 The above are a brief list of important events in the history of video conferencing,and many of which still have an important impact on today's video conferencing industry. Understanding the video conferencing history can help you grasp the development and revolution of it,and thus make an accurate prediction for the future of video conferencing.