8 Best Webinar Apps You Should Give A Try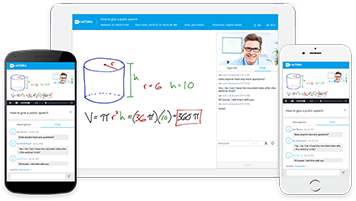 ezTalks - Best Free Webinar App
Free for up to 100 ParticipantsSeamless HD Video/Audio and Text ChatScreen Sharing and WhiteboardWebinar Cloud Recording and PlaybackJoin Webinars Through the Web BrowserSign Up Free NowIn the landscape of the global economy,with virtual assistants and viral marketing,businesses need ways to communicate with employees,consumers and partners from all over the world in real time. Thus,there emerge the webinar applications. The webinar apps allow companies to communicate with large groups of people at one time,without the cost that comes from international calls and the restrictions of conference calls. Below I'll present 8 of the best webinar apps for you.
1. ezTalksWebinar
ezTalks Webinar is one of the most popular webinar apps in the world today. It is designed to fit into various users' needs regardless of whether you are an individual,a small start-up,or a multinational corporation requiring easy,flexible and reliable webinar experience.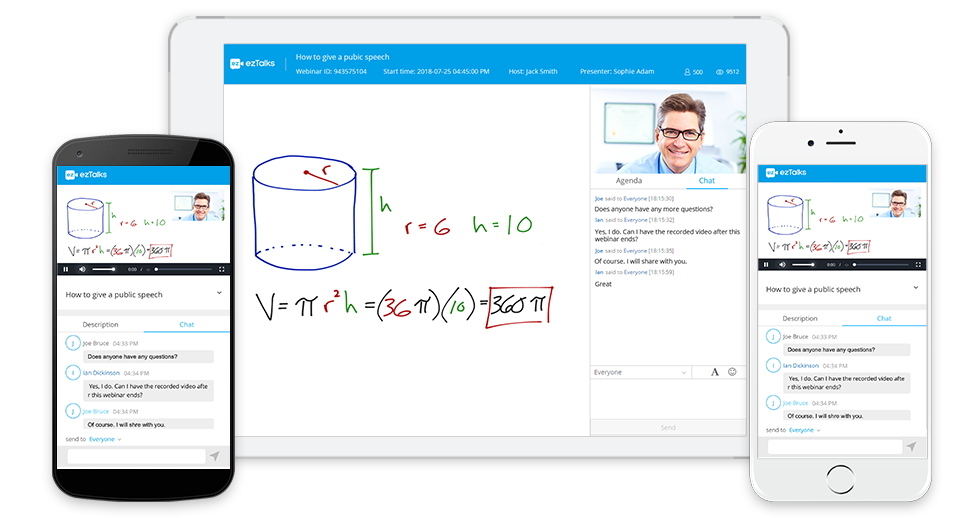 What makes ezTalks Webinar the best webinar app?
★ Free and Easy-to-Use
1) Easy to schedule and conduct a webinar in seconds;
2) Join the webinar via this webinar app or the web browser directly without app download;
3) It's a cross-platform webinar app for Android and iOS mobile devices besides PC and Mac.
4) Allow up to 100 participants in one webinar session for free;
★Interactive Webinar App
1) It delivers flawless HD video and audio experience;
2)Screen sharing,whiteboard and co-annotation increase your webinar interactivity;
3) Polls and surveys allow collecting feedbacks from your audience.
★Productive Webinar App
1) Personalize your webinar with your brand logo and customized webinar registration page,waiting room,and thank-you page.
2) Enable you to make money with your webinars by paid webinars;
3) Webinar cloud recording allows to review and sharing;
4) Get the insights of your webinar attendee via webinar report.

ezTalks Webinar is the best app for webinars,which helps your run successful webinars on the go.
2. Zoom
Zoom,currently at version 4.0 has come a long way since its first release,and while it has a lot of the same features as ezTalks Webinar as a free webinar app,once you get into the paid versions,you'll start to notice the differences. Firstly,they offer 3 paid options,so there is slightly more variation in price,but the Pro suite coming in at 20.99 per month for essentially the same product as ezTalks Webinar Pro offering,and the Business Suite (27.99/mth) only really adding the ability to customize your URL,it does feel like you're paying more for what is essentially the same product
3. GoToWebinar
A hugely popular platform,particularly in the Network Marketing / MLM world,this is an incredible webinar app to use if you have a very reliable Internet connection. If not,you may have real difficulties with audio clarity and video lag. Which would be fine if it was a free product (you get what you pay for) but with the starting price of $105 per month (there is no free option),you are not getting value for money when compared to other products on the market. That being said,for your customers and clients,both free iPhone and Android app for mobile app webinarswork very well,again if the Internet connection is strong.
4. Skype
With the latest updates of this program,Microsoft's ubiquitous video call app has branched out into the online meeting. Relatively easy to use and integrating seamlessly with the rest of the Office 365 family of programs,both as a desktop webinar and as a mobile app,if you're not looking at having meetings over 250 people (the current limit). This may well work for you,particularly if you are a smaller operation or need to keep a close hold on your outgoings.
5. ClickMeeting
ClickMeeting is another great app for webinars and online meetings for small business and startups. A 30-day free trial,followed with a range of mid-priced options starting at $25/mth for 250 attendees up to $165 for 5,000 attendees. Customizable URLs are available for all price brackets and while the ability to link your account with Facebook is a little strange for a product aimed at businesses,the ease of use may be very tempting for those not hugely comfortable using technology.
6. Webinato
Since 2004,Webinato has been working and innovating the world of webinars. Their latest offering is getting rave reviews from users and with Amazon and Hubspot using their program for training and marketing presentations. There are clearly things here worth looking at. Like most of the industry,Webinato comes with multiple price points from $119/mth (if billed annually) to $699/mth (billed annually). The big difference with this webinar application is that it also allows you to prerecord webinars and then schedule them to play later as well as create on-demand video content that can then be viewed later.
7. Livestorm
A simple and straight-forward design with clean lines and simple operation makes Livestorm a very clean and attractive webinar desktop app. Quick and easy setup for hosting Livestorm webinars while still looking slick and professional is a big selling point for this product. Starting at $100 per month if you pay annually,it is again in the middle of the pack in regards to price,and with clear audio and video looking great. It is a worthy addition to this list.
8. WebinarsOnAir
This webinar application is built on top of the existing Google Hangouts structure,but is designed to allow you to sell products in the Hangouts (something that is against the Google Hangouts terms of the agreement) while keeping the functionality and ease of use that made Hangouts the breakout star it was. Now,while it isn't a free webinar app,unlike the Google app,it costs starting at $25/mth,it does still feel a lot like Hangouts and will provide you with an easy to learn platform or an app you can just straight into if you already know how Hangouts works.
Conclusion
This is by no means an exhaustive list of webinar apps,and there are new ones being developed or old ones being upgraded all the time. But according to the webinar app reviews by most users,the webinar applications on this list are some of the best choices for your selection,and I believe some of them offer the best features and price points to fit with you or your company's needs.