6 Best Screen Sharing Services
Screen sharing services enable allows you to share everything on your computer screen with colleagues,clients and others,including websites,documents,audio,video,photos,presentations,or any others that are displayed on your screen. Besides,your colleagues,clients and others are able to observe any actions or interactions that happen on your screen,like typing,moving or the opening of files as they take place.
Unlike video conferencing service which has a live video and audio feed,screen sharing only shares the contents of the host's computer screen and not the hosts' surroundings or the host themselves.
What Are the Benefits of Using Screen Sharing Services?
• Host Online MeetingsScreen sharing services can transform an ordinary online meeting into a more collaborative and interactive real-time cross-office meeting. Participants of an online meeting get to view the contents of the host screen,which reduces the time that would have otherwise been allocated to explaining anything that is being referenced to such as charts,graphs,and even images. The 'switch presenter' option makes the process even more interactive because it allows the selected participant to share what is on his screen. Thus,screen sharing services can help boost business not only save time,but also have more engaging and interactive meetings which are bound to improve productivity.• Do Online PresentationAnother benefit of screen sharing services is that it enables companies to share and interact with clients. Because most of screen sharing services allow the host to temporarily transfer remote control of the keyboard and mouse. In this way,clients can experience companies' products,and then clients are generally more likely to appreciate the products' usefulness and advantages,leading them to purchase the products.• Remote Technical SupportThis feature is especially useful for IT companies because they can offer online technical support to their clients without having to travel to the client's location. The support personnel can view the client's computer screen upon request and by using the keyboard/mouse remote control function,they can provide the necessary technical support. The entire process can also be recorded and documented for future reference.
Six Best Screen Sharing Services
There are several screen sharing services that are available today,all with both similar and unique features. Seven of the screen sharing applications is highlighted below.
1. ezTalks Meetings
ezTalks Meetings is an awesome HD video conferencing software that also supports screen sharing. It has a free plan that can support up to 100 participants,while the paid plan can support up to 500 participants. It also supports to make annotations while sharing screens,draw unshaped ideas with an inbuilt interactive whiteboard tool,send instant messaging for groups and any participant as well as recording and playback.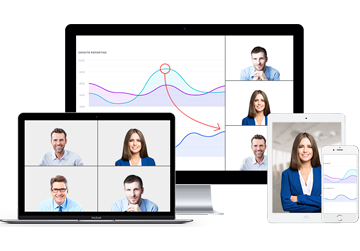 Easy Screen Sharing Software
Free for up to 100 Viewers
Clear and Fluent Screen Sharing
Whiteboard and Co-annotation
Group Video/Audio/IM Chat
Remote Control and Record
SIGN UP FREE NOW
2. ScreenLeap
This screen sharing service does not require you to download anything or create logins. It is simply accessed by clicking on the 'Share screen option' button on the company website. It can also be accessed from any device and is supported by most browsers. It allows instant screen sharing and developers can add screen sharing by using the ScreenLeap API. It offers a free plan that can support up to eight participants as well as other paid plans that provide additional features.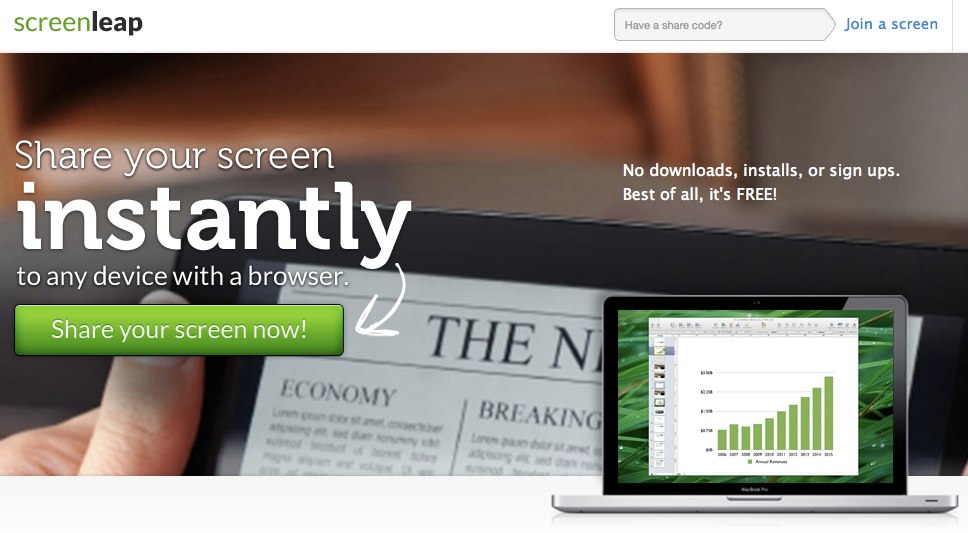 3. join.me
join.me offers screen sharing and VoIP calling as well as email support on its limited 14-day free plan and will support up to 10 participants. The paid plans include the basic features that are available on the free plan as well as unlimited video conferencing,support for 50 to 250 participants for meetings and 5GB to 5TB cloud storage.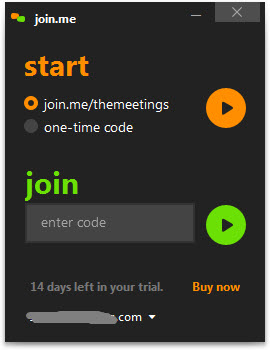 4. Fuze
Fuze is a screen sharing service that can support up to 25 participants in a meeting free of charge. Other features include 12 simultaneous HD feeds,audio conferencing using VoIP desktop and application sharing as well as IGB free cloud storage space. Fuze does not allow meetings to be recorded with the free plan,but this is available on the pro plan package that can be accessed with a monthly subscription.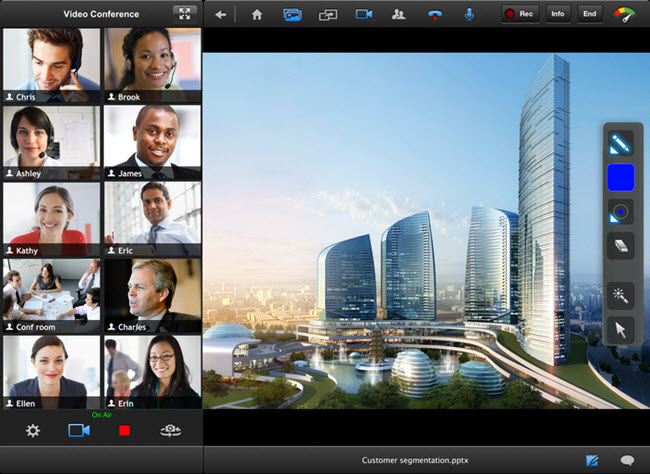 5. GoToMeeting
GoToMeeting is not a free screen sharing service. It does not require you to download or create a login when you want to access the services. All you need is click on the "Get Started" option on the company's website. Once you do this,you have immediate access to a meeting room and a link to invite the other participants. You can then share screens,your documents and presentations if you are using Google Chrome. Other functions can be accessed on a subscription.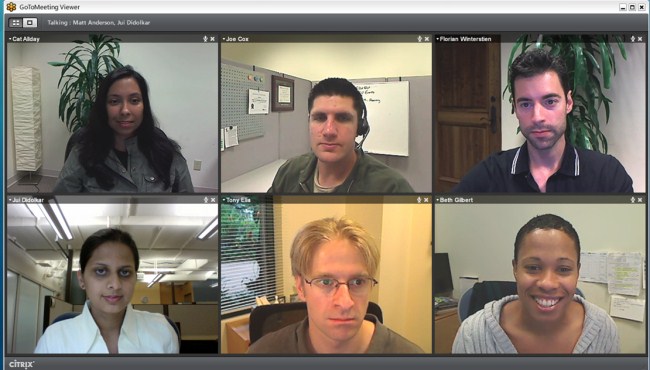 6. MeetingBurner
This screen sharing service can support up to 10 participants in a meeting and you can access all the capabilities that are available in the paid plan. It,however,does not have all the collaborative tools required for conferencing such as uploading of files or transferring screen control to other participants. However,it has basic functions such as sharing of the host screen. Moreover,it supports group and private chats.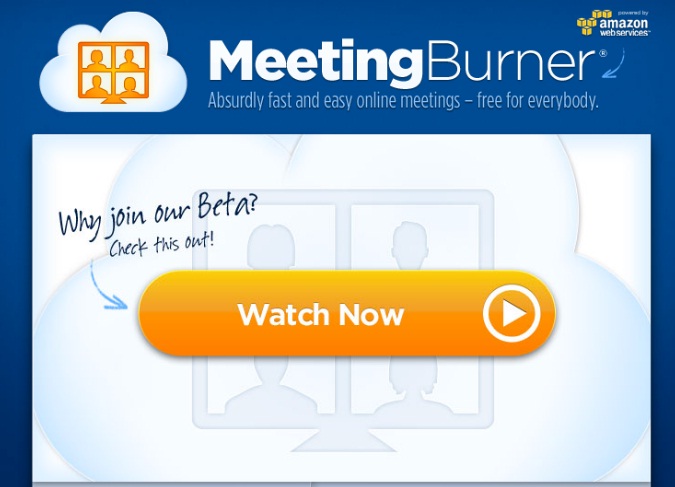 Screen sharing services offer an avenue for holding meetings with clients and colleagues in a quick and easy way. They save time and money and are ideal when it comes to training,conferencing and for providing remote support.
Ensure that the screen sharing service you select are right for your business in terms of reliability,cost,and the security it provides. Use this review to choose the best screen sharing service.