5 Mikogo Alternatives: Which One Is Better?
Mikogo is a free to use and very effective screen sharing application,which is used by a large number of users for web conferencing,sales calls,online meetings,webinars,and for remote support. It is pretty fast and secure enough for screen-sharing with others. Mikogo has made online presentations quite easy,The participants can view the presentations live on their screens. If a user wishes to get Mikogo's more features,the software provides the option to upgrade the free account to a business account. In a nutshell,Mikogo provides the best user-experience,just give it a try.
Although Mikogo is the best option for screen sharing and other applications,yet it does not mean that no other alternative of it is available online.The fact is that more other options are available,a user can easily switch to other screen-sharing apps which offer even more amazing features than Mikogo. Below is a comparative review of top 5 Mikogo alternatives,users must also give them a try.
TeamViewer
Teamviewer is my first choice. It is free to use,and quite user-friendly. The installation process is quite easy and takes only few minutes. User may access and take control of a computer remotely without any technically disturbing configuration process. He can download its latest version from their official website or from other sites such as CNET or Downloads. It is available for almost Windows' all versions,it also runs on almost all operating systems on mobiles. User has the options either to share the entire desktop or a single part of application Window. He can share files or folders either from the hardware drives or from online storage drives like google drive. It can be installed as a portable version to accept connections remotely. A portable version does not require any installation at all.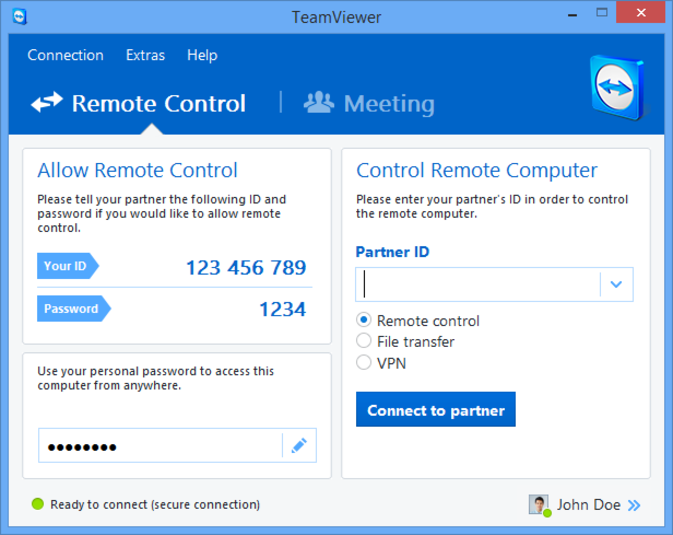 Skype
It provides screen sharing services as well as calls,messaging,and video chat. User has the option to share files with any individual or a groups of persons. Skype video can be used as a screen-sharing tools to show the live demos. It is also a free of cost solution to the issues of file-sharing. User can connect with his friends through voice or file sharing. More,he can share only a segment of a file or the entire file with other.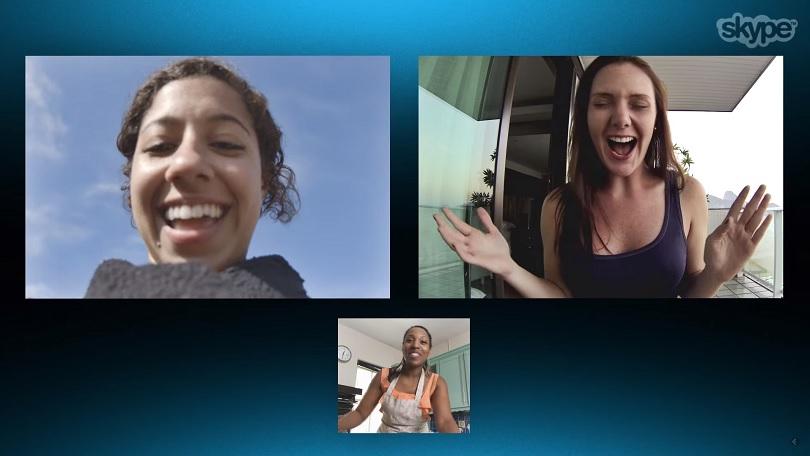 ezTalks Cloud Meeting
It is yet another video conferencing software that is best for cloud meetings. It has three price plans,which are starter,pro,and enterprise. Starter package allows up to 100 participants to join a meeting with its free account. The number of meetings is unlimited,cyclical meetings are also unlimited. However,group meeting is limited only to 40 minutes. Whether the meeting is scheduled or instant,starter account allows the both. In addition,group and private chatting is also allowed,together with group messaging facility. It also provide facility of application or desktop sharing. It supports many operating systems such as windows,mac,android,iOS,and browser. It also provides 48 hours email support.
Pro package is great for business professionals. In addition to all features of starter package,it allows 500 participants per meeting and duration of meetings is unlimited. it also provides live chat and 24 hours email support.
And finally,its enterprise package includes almost all features of pro package,but makes the different by hosting up to 10,000 participants with 64 HD video streaming facility. other distinguishing features include system integration,dedicated support of account manager,and 24/7 live chat,phone,or email support. Just give it a try.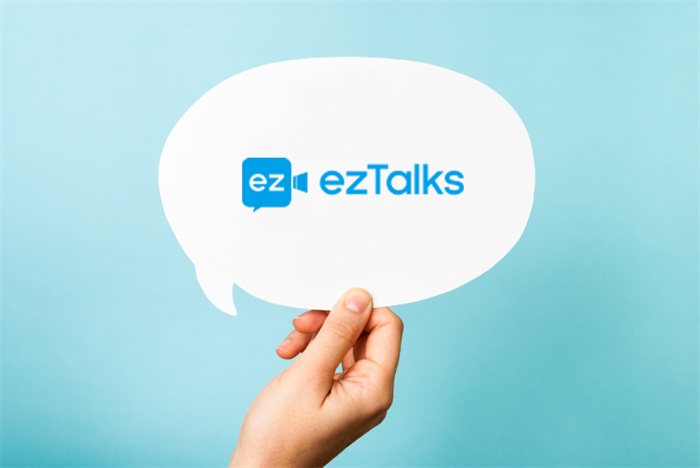 ScreenLeap
Screenleap provides the best quality screen-sharing services. It is fully compatible with any operating system. Its best quality is that it does not show a blurred screen as we see in the cases of most of the other screen-sharing applications. it allows 1 hour a day free account for general users,while 2 hours a day free account for students or those working in educational institutes. It offers a plethora of features,a user can use it for live conference,presentations,online workshops,and so on.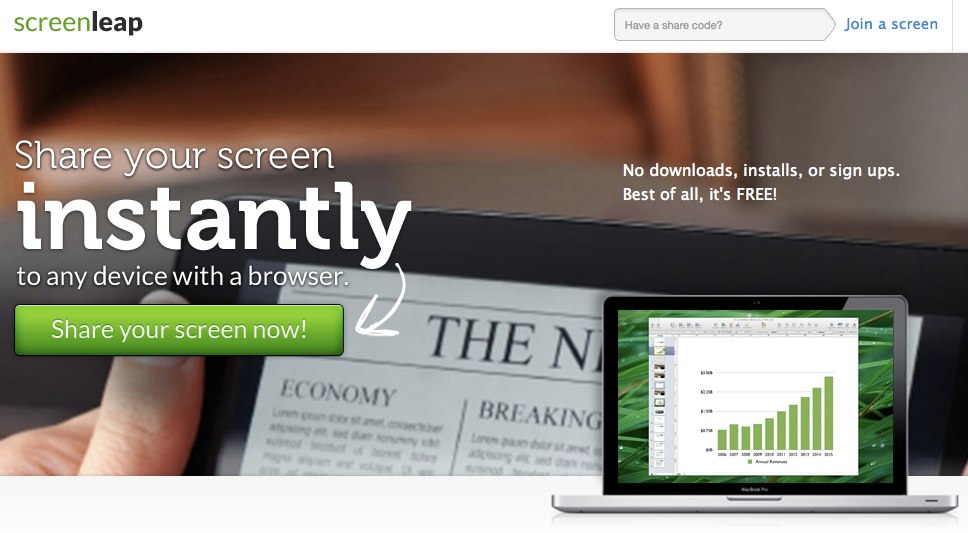 Join.me
Join.me is a cloud-based platform,which offers a variety of features to connect with each other and share their screens online for various purposes. It is especially helpful for business community to collaborate with each other to remotely carry out all business activities such as live conversations,conferences,or meetings. The app is user-friendly and and pretty simple. However,it has not yet the video-conferencing facility. In addition to this,the participants of an online meeting have to use a browser to join each other. It requires flash player to run its functionality. It supports almost all leading browsers such as Chrome,Mozilla firefox,Safari,Internet explorer 8.0 or above. It is fully integrated with operating systems such as windows,and iOS etc. Its price structure is quite comprehensible. It has been developed by highly-professional developers,so it works quite efficiently without any fault.The free version allows a maximum of 10 participants to join simultaneously. In addition to this,it also offers it Voip service free of charge. The paid version allows 250 participants to join simultaneously,it also offers documentation facility of all the meetings. It keeps record of all such meetings.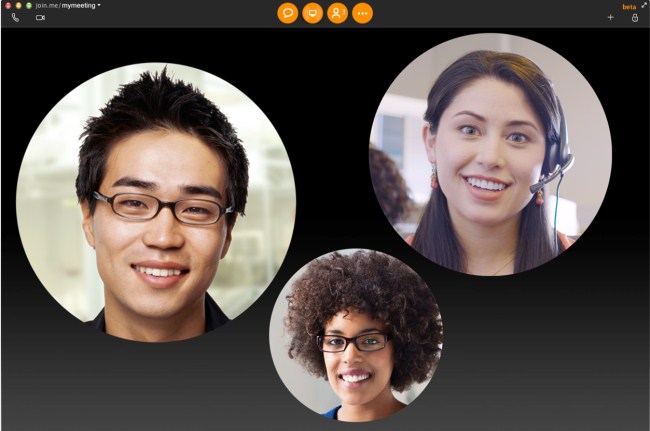 Bottom Line
The review of each screen-sharing app shows that most of the features of each app resemble with each other. With a slight difference in one way or the other,they offer the same services. They are the best alternative to Mikogo. A user has option to switch from one application to the other according to his needs.