What Is Internet Conferencing and Why Choose It?
Web conferencing or internet conferencing is one of the online services by which you can start a live meeting or conference virtually. All you need in this case is a stable internet connection,a device and a software or tool by which you will be able to connect to other clients,partners or employees for the meeting. Though quite different from that of traditional meetings which are held in a room,internet conference provides all the essential facilities. Whether you want to share your screen with other people in the conference or any files and documents,you will be able to do that. In fact,it is quite convenient and cost effective than traditional meetings.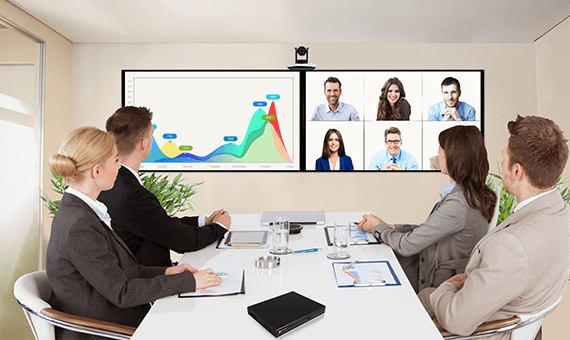 What Is Internet Conferencing?
You can define internet conferencing as a conference or meeting that is held over a virtual realm via the internet. It allows you to add the people whom you want in the conference or meeting. It can be anyone sitting miles away from you. Just with the help of the internet,it is possible to hold a face-to-face meeting. For this,you will,of course,need a platform or tool by which you can initiate the conference call. One of the best software for internet-based conferencing is ezTalks Meetings. This is a worldwide popular tool which you can download and install on your device.
Why Choose Internet Conference?
There are several benefits of choosing internet conference over the traditional conference. You will be able to save a lot of time and money in the long run. Even,it is quite convenient and easier for the people who are always traveling:
- Saves Money & Time
Undoubtedly,it helps a lot in saving your time as well as money. If you have to attend a meeting,you no more need to travel miles for that. With the help of the technology,it has become a lot easier for people to attend the meeting regardless of where you are. You can thus save both the time to travel and the cost of traveling from one place to another. So,even if someone sitting in the far east and you being in the far west,there is no problem continuing the meeting.
- Record the Meeting
Another great benefit that you get to experience with the help of web conferencing is that you can record the entire meeting. So,if by any chance someone is not able to be present in the meeting,you do not have to repeat. Just play the recording and it will be clear to him/her. This can also be used as a reference month or even years later.
- World Comes Closer
Just like any other normal meeting,you will be able to see the other participants of the meeting and also talk to them. You can also present your presentations with the help of screen sharing facilities that the e-conference tools offers. Besides that,you can also transfer files,documents,use white boards and receive instructions via this online meeting. So,even if all the participants present at the meeting are from different corners of the world,with the help of these features you can have an effective communication.
- Speed up Work Efficiency
Internet based conferencing undoubtedly helps people to speed up your work efficiency. So,working on a project gets easier and faster as you will not have to wait for your teammate or partner. You can have a conference online no matter wherever your teammates are and continue doing the project. This will speed up your project completion. Even if you are going to arrange a traditional meeting,you have to organize everything,look for a conference room,let everyone know at least a week before etc. But now you can concentrate on your work and let everyone know about the meeting just a day or two before.
- Emergency Meeting
In case,you need to arrange an urgent meeting on the same day e-conferencing is the best idea. You do not have to wait for the person to take a flight and come to your office. Just drop a mail or message about the meeting time and your urgent meeting will be held smoothly.
How to Create e-Conferencing with ezTalks Meetings?
Just like Zoom internet conferencing,ezTalks Meetings is also one of the best free internet conferencing tool which you can use for your business as well as for your personal work. It is very easy and hassle-free to create account and start your internet meeting with this.
Step : Sign up with ezTalks Meetings with your email id,name,and password.
Step : Download the software on your device and install it. Get the latest version of ezTalks Meetings for Windows from the following.

Step : There are 3 packages – one is STARTER (free) and other 2 are paid packages i.e. Professional and Enterprise. Choose one of these 3 packages according to your needs and requirements for internet conferencing.
Step : Now you can create a room and invite the participants to join you.