5 Excellent Cloud Video Conferencing Providers
Cloud video conferencing market can enhance the communication in your company in lots of ways. Cloud based video conferencing makes you to view some vital clues which were lost in emails and voice calls. It helps you to talk seeing each other with your team even though if they are not at your place or in one office. Your company can save money by decreasing the travel charges and combine your workplace in a way which is hard to perform by email or voice calls. Many video conferencing service providers help you to share apps and work together on projects. Here we will list top 5 excellent cloud based video conferencing providers in the current market.
1. ezTalks
ezTalks is one of the world's major cloud based video conferencing providers which allows you to host unlimited videos in HD quality with 100 participants for free per meeting. It also gives instant messaging,free audio conferencing,whiteboard collaboration,file sharing,and remote control of apps for presentations an picture while meeting. ezTalks allows free video conferencing for up to 100 users. After that you can choose a plan that suits your requirements. It gives its users 24*7 customer supports where you can contact their executives anytime online to get solutions for your problems and queries. You just have to drop them a message and you will quickly get a response from the other side. No other video conferencing provider has such features and excellent customer support.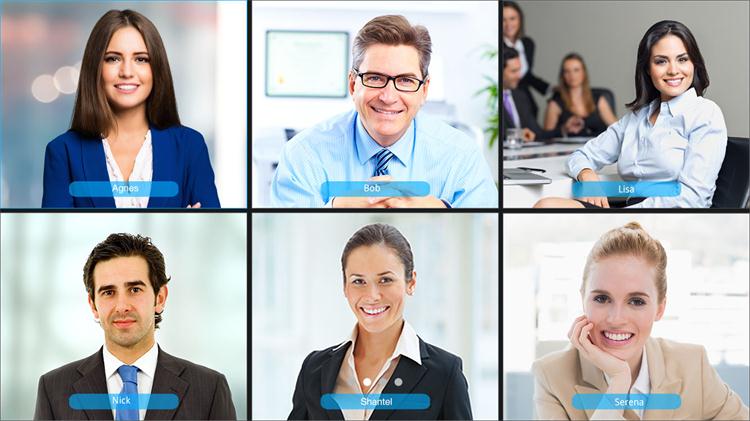 2. Fuze
It is a service that helps you to host conferences with 12 HD streams. The provider is properly streamlined and also has a good interface. Fuze has various tools for calling in the invitees and allowing them to participate. The Fuze application helps you to control video conferences,watch video,talk with others,control presentations and see every participant by easily swiping the feeds. It is very easy to learn that provides HD video. Fuze is completely online video conferencing software. To use it you have to download it on your PC or any other device you will be using it on.
3. Brother Omni Join
Now this is a cloud- based conferencing service provider which can host around 20 attendees with huge security measures,ability to host meetings,video optimization from your or their clouds. It has features which give the users and your attendees a better visual experience. The user can share desktop,whiteboards,applications,files and presentations. The whiteboard gives you to mark anything even the live videos and applications. Omnijoin gives excellent quality HD video conferencing. It is said to be the one of the best solutions for government offices and companies that need a reliable service with the best security measures.
4. Adobe Connect
Adobe connect is popular as one of the strongest video conferencing services. It allows the user to create eLearning courses,virtual rooms,web meetings and webinars. Consumers can host and create video conferencing meetings,work together,perform extensive trainings,join existing meetings etc. Adobe Connect features allow users to make hype over social media to market or sell their webinar and also measure the working of your campaign. The Adobe Connect service is available on phone for the employees who work from a different place which is far from the office. Creating content,hosting,training and attending all can be done over any tablet,phone or PC screens. It would be best for companies with too many employees. For small companies the subscription price can be prohibitive.
5. Skype
Skype is one of very popular companies among all the conferencing applications in the market. Skype is now a formidable service provider for small organizations who wish to have low cost service for communication. Skype is a very popular cloud video conferencing in India and it helps you to do video conferencing for free but only with 25 people. Skype provides the ability to make voice calls all over the world from any device for just a low monthly cost. The service is said to be fair value for small companies and startups that doesn't require more than 25 attendees. A company that uses Skype's voice call functions will definitely benefit from its video conferencing system as well.
A professional and effective video conferencing tool will bring much more convenience for your company. These tools make our life and work easier. We always face lack of time and so we cannot be present everywhere or travel every now and then to attend a meeting and this is where these tools come as a rescue. If you are confused about which is the best video conferencing tool to meet your requirements of education,business or medicines,ezTalks will be a great option suggested for you.