4 Platforms for Online Group Chat
If the everyday challenge of communication,especially with your staff and co-workers,is making you go nuts,it is definitely not your individual fault. Then it gets more overwhelming considering the overall number of apps you can use: Skype,Dropbox,and Google+ among the many others for online group chat.
Although all these particular apps are designed for group chat online,collectively they boast nominal integration and even lead to chaos. Nonetheless,the time to clean house has come. The secret to having successful communication is not to segment,but to streamline. If you are looking to tidy up your communication process,below are four exclusive platforms for online group chat which simplify and enhance team communication.
1. ezTalks Cloud Meeting
As a unique and superb team collaboration software,ezTalks Cloud Meeting is among the numerous apps that facilitate effective group video chat online. It provides businesses with cloud-based solutions and assists them not only communicate but also connect with the workforce remotely,perform file sharing and ultimately complete tasks effectively.With ezTalks Cloud Meeting,you can effectively and simultaneously conduct private and group chats in text or through HD video and HD audio. During the group online chat,you can even share screen and whiteboard among your participants. Besides,you can save and download the text histories of group chat for review. The platform is available in both paid and free services depending on your specific needs and requirements.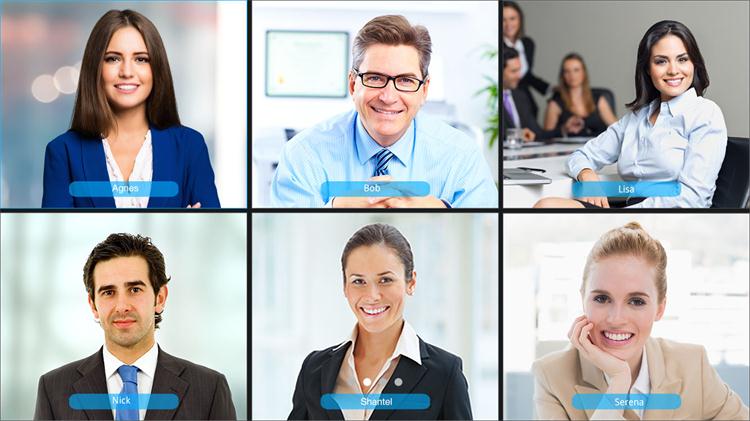 2. Zoho Chat
Zoho Chat is the latest unveiling from Zoho in its exclusive online productivity application suite. It is a web-based platform that does not require any configuring,upgrading or even installation that allows both online groups chat and instant messaging. With this platform,you can now easily connect with your colleagues both users of Zoho or otherwise on standard IM networks such as Google Chat,Yahoo!,AIM,and Windows Live.
It avails a wide array of the popular IM applications,and with it you can not only send files,but also record chat histories,start meetings and even send files with typical IM apps. This platform can also send you distinct notifications from the various activities which occur within Zoho,including unread messages,notifications on document sharing and much more.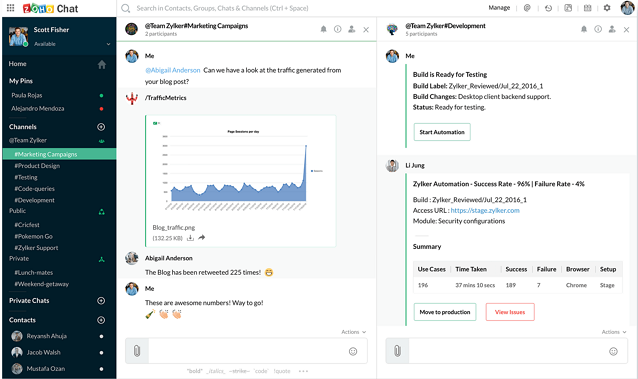 3. HipChat
This is among the most reputable and popular group chat online apps and for great reasons. It not only is fast and affordably priced but also boasts apps for each platform,including virtually everything your team could possibly want.
With HipChat,you are well able to make private or public group chat online. Invite guests to individual chat forums,spot who is online and consequently start private conversations with these individuals. It comes with a broad emoji library and allows you to have fun even with your personal icons. What's more,it is equipped with a real-time group video chat and screen sharing feature that allows you to perform face-to-face interactions with friends and workmates.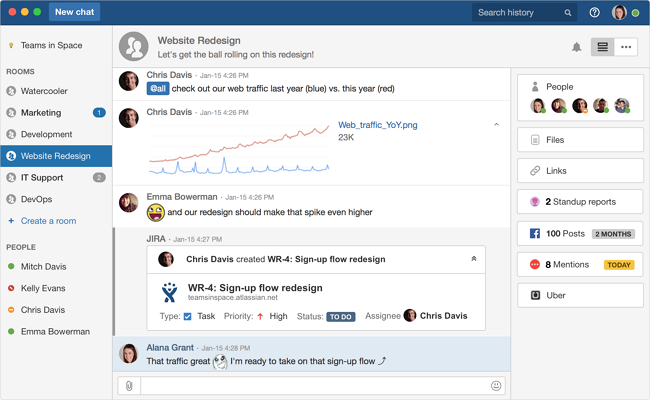 4. Campfire
Campfire is a web-based chat platform that works like instant messaging,although precisely formulated to suit groups. Simple,attractive and intuitive,the app is basically a service that targets businesses that want to integrate all their chats in a single place and even incorporate images on the specific chat link.
With respect to one-on-one chatting,it is better placed than the typical IM clients since it allows group chat online. Every chat in this platform is characterized by a distinct URL and they require no special chat networks or software. With Campfire,you are well able to discuss and share files instantly with your co-workers or clients,conduct secure chats over SSL and browse through numerous transcripts of former chats.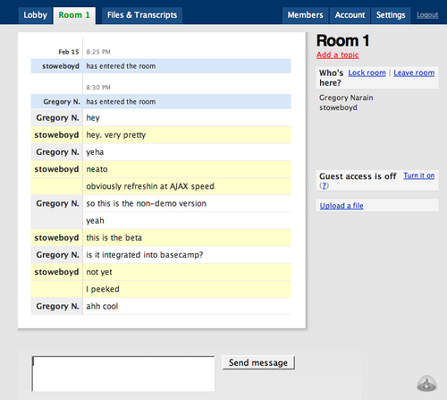 Conclusion
Online group chat with anyone from anywhere that will keep your organization or team not just informed,but interacted,and ease the process of rediscovering every bit of content and information ever shared. That is exactly what these four online group chat platforms promise to provide your team. All that you need to do is to select one that has the perfect blend of features ideal for your team and gets your team working.