Best 5 Online Conference Call Services
An online conference call is an online communication way where participants are connected with other participants in other geographic locations through virtual meetings facilitated by online conference call service.
In the past,online conference call services were viewed as services only attainable by the large corporations. However,there has been a penetration in the market where small businesses have been able to carve out a niche for themselves. These online conference call services are offered by various companies with different packages. Let us have a closer look at five of the best online conference call services.
1. ezTalks Cloud Meeting
ezTalk Cloud Meeting is the most professional and one of the best online conference call services out there. It enables you to host online meetings with colleagues from other branches and likewise discuss projects with clients. ezTalks Cloud Meeting offers a free version in addition to its outstanding premium version features. The free version comes with most of the perks of the premium features for up to 100 participants. Some of the features of ezTalks Cloud Meeting includes.Super HD video and audio quality
If you want HD online video conferencing experience,ezTalks Cloud Meeting's 1920*1080P HD resolution is most suited for you. However,with limited bandwidth there are other resolutions like the 1280*720,giving you options depending on the most suitable for your needs.Quick access to meetings
The quick access feature is particularly advantageous to new clients. You can invite who can then quickly log in to the session without the need for a registered account. Clicking the invitation by using the ezTalks Cloud Meeting's link sent via email is enough.Easy screen sharing and annotation
Video conferencing is meant to save time on traveling,and therefore enhancing the company's productivity. A participant can share files with other participants by just opening it and clicking screen sharing button and present ideas. Your colleague can subsequently take annotations hence saving time.Schedule and record online meetings
Meetings can be scheduled in advance and send participants invitations,in case a member is not available for the online conference call. You can save the meeting as minutes and send it to them.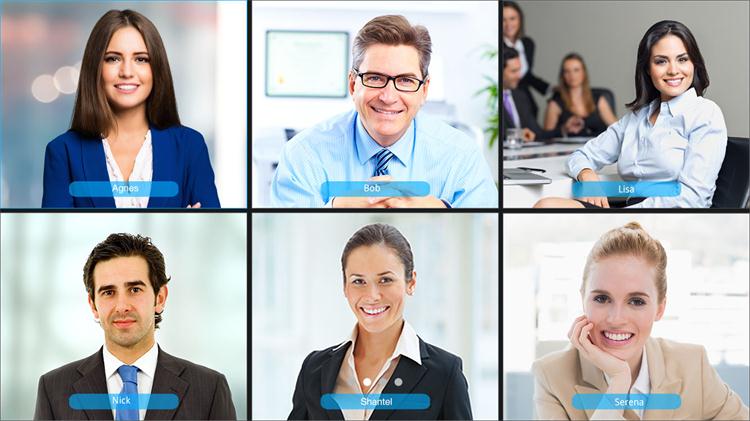 2. Intercall
Intercall is most suitable for small businesses as it hosts 10-25members. Its pro plan lets you host online conference calls for up to 125 members. A monthly plan is however also available to its participants with a dedicated dial in number for all projects.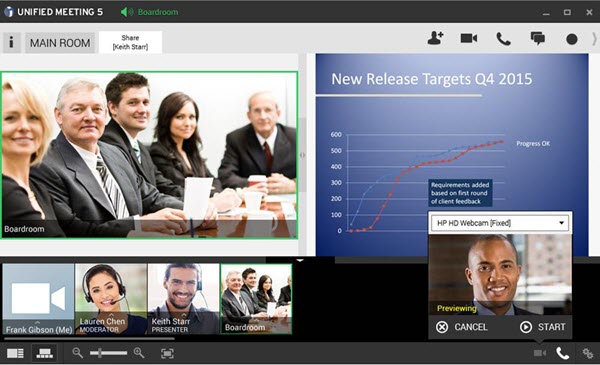 3. Conferencecalling
This online conference call service has two unlimited plans that are the pay-per-use plan for up to 300 callers and the unlimited plan that lets you host an unlimited number of guests per month. Customers on Conferencecalling Service can host calls or schedule them on the fly,conduct screen sharing and also use an operator to assist in complex calls. It includes essential host control tools where participants are called to bring them to the meeting,and this is referred to as 'call me' functionality.
The Conferencecalling Service is easy to use since it is a web based service and in addition to that works well with either PC or Mac. A complication might come about when you try to combine two services,say one for screening communication and another for audio. For this to happen,it needs numerous dials in numbers,security passwords and conference ids.

4. WebEx
It is the most popular online conference call service out there since everyone that has ever joined a conference is familiar with it,Owned by Cisco WebEx provides reliable video conferencing,screen sharing as well as audio and other interactive features. WebEx has two major features,namely WebEx Meeting premium and WebEx meeting free and other additional plans called WebEx training center,WebEx Even center and WebEx support. There video conference centers offer video feeds,split screen mode,full-screen mode and used telepresence technology. Other features include personal meeting rooms,annotation tools and whiteboarding.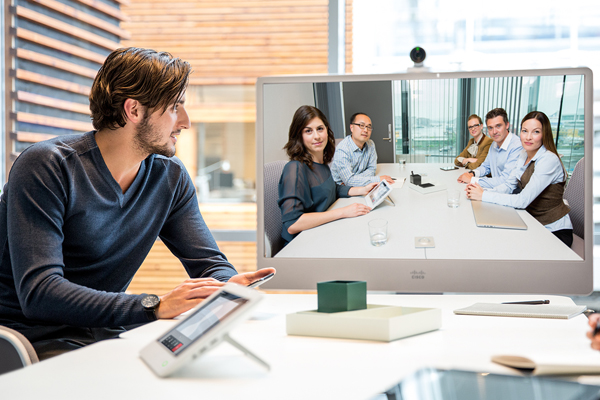 5. UberConfrence
Unlike the rest,the UberConference is the simplest service to use as it does not need a pin to log in to the system. The best feature of this service is that it lets you share documents with support directly from Google Drive,Evernote and Dropbox. In addition to this,by just clicking the sharing button on the dashboard,you can enable screen sharing.
This onlinr conference call service has a free recording system with a great hosting control which ensures minimal background noise. Your schedule is kept well on the system and allows participants to participate in a conference meeting by calling them so no worries on dial ins. It is also tied to social media sites such as Twitter and LinkedIn to enable you to see other participant's company name,work title,recent posts and so on. Lastly,it accommodates up to 100 attendees.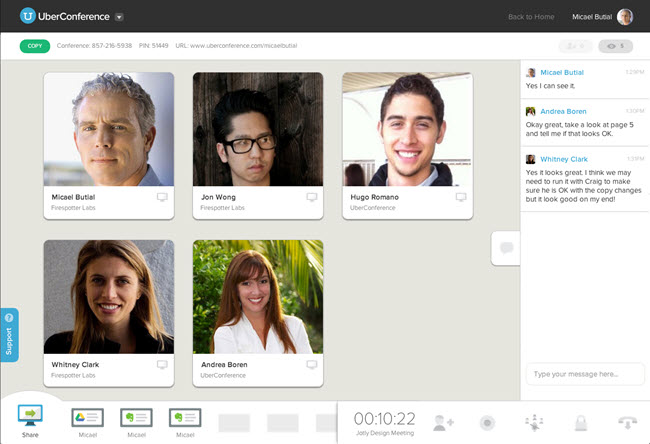 Conclusion
Online Conference call services have become a big part of work today,and these services have features that can take out the pressure from online meetings and group calls. Therefore,they should be implemented by businesses to ensure efficiency in productivity. Nonetheless,online conference call services have demerits that include poor sound,especially on the free premium versions,subscription fee and finding the most suitable one for you and your business.