2014-2016 E-learning Market Trends — Middle Eastern E-learning Market
In our previous articles,we have already talked about European,North American,Latin American and Asia E-learning market. Today,we will continue with Middle Eastern E-learning market.
"The average money spent on education in the Middle Eastern countries is considerably higher than the international average. There is a strong interest in education,motivated by large-scale changes both within the national and the global economic systems",states Dr Bassem Khafagi from Nahda University,Egypt,one of the leading education experts and chair of the Middle East E-Learning Forum & Exchange at ONLINE EDUCA BERLIN.
This coincides with figures recently published by the Madar Research Group,UAE,which state that the United Arab Emirates have one of the highest rates of admission to higher education,with 90% of secondary school graduates entering college or university,according to a study by the same research group.
The Middle Eastern E-Learning market is growing rapidly due to market makers,such as Governments,Private Schools and Corporations. This infographic relates to 2013 E-Learning revenues,the market annual growth rate and the forecasts for revenues in 2016.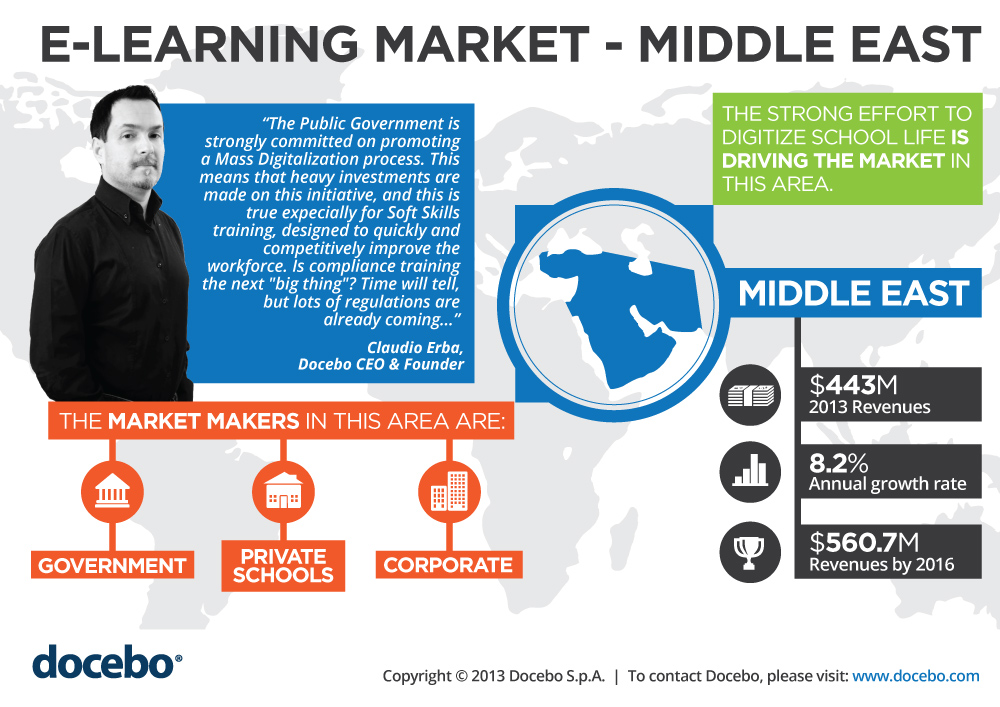 The revenues for Self-paced eLearning products in the Middle East reached$378.4 million in 2011. The growth rate is 8.2% and revenues will reach $560.7 million by 2016,according to a new Ambient Insight report called,"The Middle East Market for Self-paced eLearning Products and Services: 2011-2016 Forecast and Analysis."
Forecasts for ten countries are included in this regional report: Egypt,Israel,Jordan,Kuwait,Lebanon,Oman,Qatar,Saudi Arabia,Turkey,and the United Arab Emirates (UAE). Oman has the highest growth rate in the region at 19.6%,followed byLebanon,and Turkey at 16.0% and 12.9%,respectively.
"The Middle East is a vibrant eLearning market. The three major catalysts in the region are the countrywide content digitization efforts across the school systems,the large-scale deployments of tablets in both academic segments,and the rapid adoption of eLearning in the higher education segments," reports Sam S. Adkins,Chief Research Officer. "It is the combination of these catalysts that has created a massive demand for packaged content and suppliers are scaling up fast to meet the demand."
Oman is the top performer in E-Learning terms for the rankings that cover the Middle East. Oman has the highest
growth rate in the region at 19.6%,followed by Lebanon (16.0%),Turkey (12.9%),Kuwait (12.6%) and Qatar (11.3%).
This is mainly because the Government of Oman is interested in issues relating to education and computer literacy and,consequently,is investing heavily in the sector.
For example,Sultan Qaboos University (SQU) regularly provides professional development workshops for its staff.
This acquaints them with distance learning software from an educator's perspective. To date,over 200 staff have attended such workshops. In addition,almost as many regular courses have some E-Learning content included.
Middle Eastern Governments are strongly committed to promoting a Mass Digitalization process. This means that heavy investments are being made in this initiative. This is especially true for Soft Skills training. This is designed to quickly and competitively improve the workforce. Is compliance training in this region the next "big thing"? Time will tell,but lots of regulations are already coming"