How to Make Video Presentation Online
Video conferencing software gives a very easy way for businesses to create powerful online presentations and even share documents with too many participants. With the help of good cloud meeting software anyone can make video presentations online very easily. Power point application allows you to make images, graphs, digital slides and tools of information. While creating online presentation with the help of best video conferencing software, users can share power point files in real time with employees to make your point clear. While making educational or business presentation online it is very important to make use of some tools which will make attendees understand the point clearly. Luckily we have latest technology to make such presentations. Some of the applications and files you can share over the internet during the presentation includes excel, word, power point, images, text, PDF and more.
ezTalks Cloud Meeting is among one of the best and reliable video conferencing software which allows the users to make PPT presentations online easily. Now you may have a lot of questions in your mind. How to make video presentation online? Or how can you make it for free? ezTalks simplifies the entire concept for you to understand in a better way. ezTalks gives a lot of solutions which can be utilized for video conferencing. It tends to be flexible, reliable and very cost effective. While creating a video presentation online ezTalks meeting software is the best online video presentation maker to go with. It gives you multiple functional features which allow you to streamline your video presentation online. Here we will show you step by step information to get you started.
Step 1: You have to download and then launch ezTalks Cloud Meeting software:
For hosting a meeting over internet and inviting participants you have to download ezTalks meeting software. After downloading it you need to launch it on your Mac laptops or your windows device. If it is your first time that you are using ezTalks software you will have to create a new ezTalks account by simply clicking the sign up option on the lower right side corner of software you have downloaded. For previously registered users you can directly move forward to login using your Facebook, ezTalks or Google account.
Step 2: Invite participants to be a part of the meeting for the presentation:
Now when you are logged in, user has to find start meeting button that will permit you to get into virtual meeting room. Check if the microphone and webcam is working properly or not. After this proceed to invite participants to be a part of the meeting by providing your room ID also you can even email them. After they accept the invitation the user can proceed and start making the video presentation.
Step 3: Utilize the screen sharing option to create a video presentation online:
As you go ahead with the meeting the user can use free screen sharing option to share files and applications to make online video presentation worthwhile. With this following function you are able to share power point application where all the participants can view digital slides with real time. Just click the share screen button and select power point the application will be shown on every participant's screen. This way the user can proceed to explain their point and take the discussion further.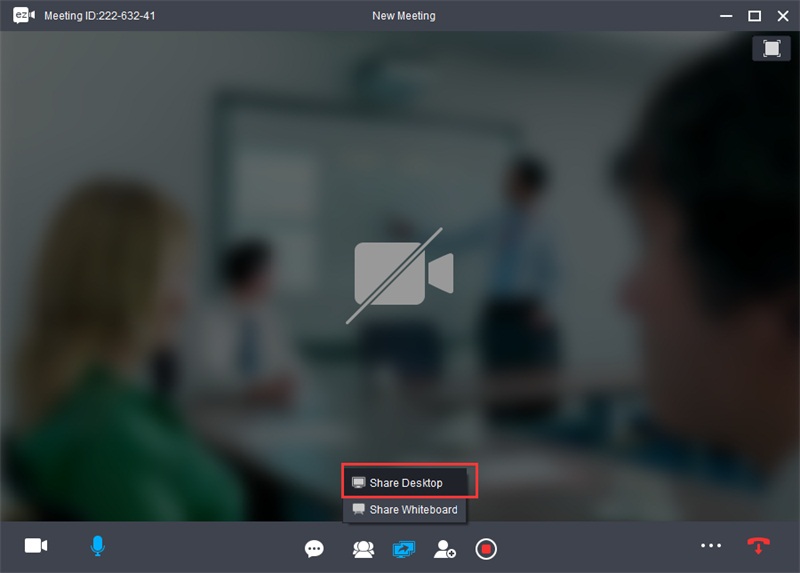 Step 4: Make use of designated buttons to stop, pause or restart the video presentation:
While preparing the presentation the user can pause and even restart the desktop sharing to allow discussion and annotation before starting again. You can even exit the desktop sharing function by pressing the stop button when you end the video presentation. The pause, share screen, stop and annotate button will be present on the screen to help you in executing the given command.
Conclusion:
As now you can see it is very easy to make video presentation online than you ever thought. With the help of ezTalks meeting software it is very convenient and easy to share applications such as PowerPoint on an internet video conferencing for other people to see digital files. You don't require too many resources to create video presentation online.