5 Best Alternatives to Zoom Conference Call
The 5 Best Alternatives to Zoom Conference Call
A conference call is where more than three people can participate in a call. There are many companies that provide conference call services. Every user is assigned a PIN by the provider which they use to gain access to the conference call once they dial a number and key in their code. There are many reasons that may lead a company to use the conference call to communicate.
First, conference calls reduce costs involved in transportation. Since employees in different geographical locations can communicate at the same time, the need for a face-to-face meeting is eliminated. Secondly, with conference calling, absenteeism is minimized since a person does not need to be physically present at the meeting. All they will need is a telephone and good connection.
Part 1. What Is Zoom Conference Call?
Zoom Conference Call is one of the companies that provide conference call services to customers. Zoom specializes in video conferencing which is a form of a conference call with the added feature of visual.
Zoom has two plans- Basic and Pro. The Basic Plan is totally free and you can use it for as long as you like. One of the main differences between the Pro and Basic plan is that there is a 40-minute time limit per meeting with 3 or more participants on the BASIC Plan. However 1:1 meetings (you and one other) are unlimited time. The basic plan has a 100 person capacity. This allows all participants the ability to see, speak, hear, and screen share with each other.
Since Zoom offers visual in teleconferencing, the participants can be able to see the presenter. Enhanced concentration since it's like being in the same room with the presenter. With Zoom, the presenter is able to see the participants of the conference, because of this feature, they are able to gauge the attendees' responsiveness and offer clarification where needed.
As a new user, the signing process is a bit confusing. A new user is not sure of which add-ons to apply. You will also need a good source of lighting while using the platform if you conduct the meeting in a poorly lit room or at night.
Part 2. Top 5 Alternatives to Zoom Conference Calls
There are some alternatives to Zoom including ezTalks Meetings, Skype, AT&T, GoToMeeting and WhatsApp.
1. ezTalks Meetings
ezTalks Meeting offers two plans as well, the freemium plan and the premium plan. One of the greatest features of ezTalks is that you can add up to 100 people to a conference free of charge and there is no expiry time. If you are in a small business and requires remote communication with a limited budget, then ezTalks is your best choice.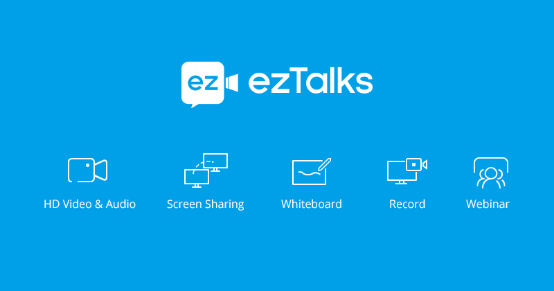 ezTalks Features:
· You get top-notch video and audio quality;
· Allows you to record the video of the meeting;
· Used on a number of platforms including iOS and Android;
· Numerous built-in add-ons;
· Free and fast screen sharing;
· Group/private video chats;
· Telephone dail-in supported.
Its video conferencing services are also cloud-based giving you and your team a seamless meeting. ezTalks also enables you to conduct your meeting as a group or as a one on one private meeting.
2. Skype Features
Skype is a mobile-based communication software. The most significant feature of Skype is that it is free. Provided you have internet, you can be able to communicate. Skype is also compatible with all the major operating systems which make it accessible to many people.
Advantages
· You can receive and answer messages instantly. · Free calls to other Skype users.
· Supported by major Operating Systems making it accessible to many people.
Disadvantages
· Does not have the best audio and visual quality. Where else ezTalks Meeting offers very clear audio and HD visual.
· Skype is affected by poor internet connectivity since it's a VoIP.
· You have to pay if you are calling a mobile phone or landline.
3. AT&T
AT&T is the largest mobile phone service provider in the world. It offers a wide range of services to its customers including cellular network coverage, Wi-Fi, and VoIP among other services. Since it is the largest mobile service providers, it has a wide network coverage and a number of subscription plans.
Advantages
· Very fast and reliable 4G network which makes telecommunication easy.
· AT&T offers global coverage since its phones work in many countries.
· It is the leading world telecommunication provider so it has many subscribers.
Disadvantages
· If you do not activate the roaming service, you will not be able to communicate if you are outside the network's coverage.
· Very expensive when using cellular data to conduct a conference call.
4. GoToMeeting Features
Go to meeting web platform provides a URL which you use to participate in a web meeting. It is fast, robust and easy to use. It features includes four price plans: free, starter, pro and plus. You can join the meeting either through your mobile phone on desktop and laptop. It has the option of private meeting and virtual whiteboard.
Advantages
· It enables project managers to easily reschedule meetings if one of the participants is unavailable.
· Offers mobile phone app services so that you can hold a meeting from anywhere and not necessarily in the office.
· Compatible with windows, android and iOS platforms and is also free to download on any device.
Disadvantages (Gotomeeting alternatives)
· Cutting out of conversations when there is a disruption of internet connectivity.
· If the software is compromised or attacked, there is the risk of unwanted parties listening in on the meeting.
· Software bugs can cause the web communication software not to open.
5. Whatsapp
WhatsApp is a platform which offers very reliable messaging and video call services through the internet. The platform uses your cell phones internet connection and you can therefore make video and voice calls for free. Another feature is that you can send documents under 100MB very conveniently.
Advantages
· It is free since the platform uses your phones internet.
· WhatsApp is available in very many countries thus making it easy communicate in a conference call with people from across the globe.
Disadvantages (whatsapp alternatives)
· Has a group limit of 256 people so it is not suitable for large audiences unlike ezTalks Meetings where you can add a large number of people.
· If the group is created by one person, they have the administrator rights and they are the only ones who can add members to a conference call.
· If you are not in the WhatsApp group, it is impossible to participate in the meeting.
Conclusion
Communication is very critical to any business operations and choose the right zoom conference call is also an important. As such, it is important for companies to invest in a communication platform that offers a wide variety of features. One of the best web-based platforms that a company can use for it conference calls is ezTalks Meetings for its superior services in terms of convenience and price.