Top 3 Alternatives to Lifesize Icon 450
Lifesize Icon 450 is designed in a perfect way to bring the video communication power to huddle rooms. It has the smart framing sensor that ensures everyone present in the room is visible during the video the call by automatically adjusting the camera. Lifesize video conferencing provides an expanded field of view with its exceptionally sharp wide angle lens,thus,capturing everyone within even in small-meeting spaces.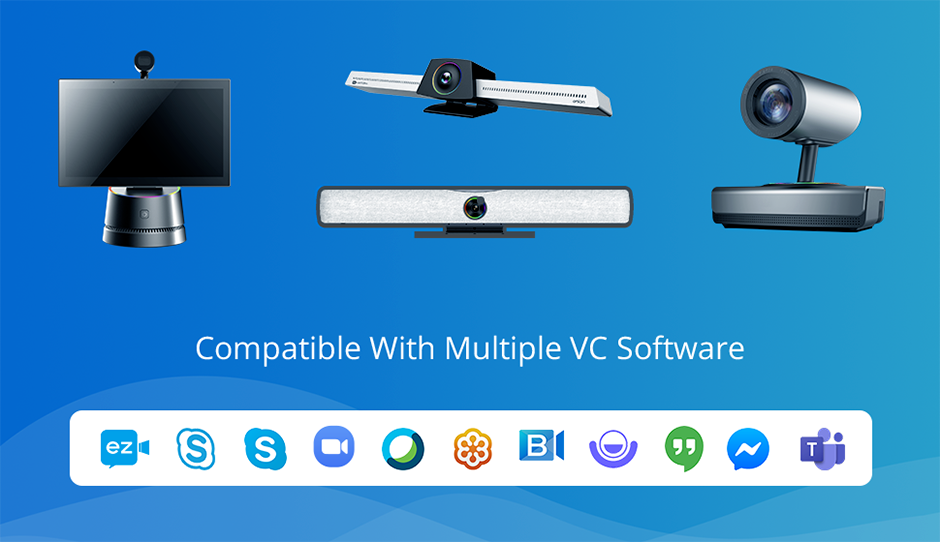 ezTalks Hardware
Supports Multiple VC AppsezTalks all-in-one video conferencing devices work with most popular VC apps like ezTalks,Skype for Business,Skype,Zoom,WebEx,GoToMeeting,BlueJeans,Lifesize,Google Hangouts,Facebook Messenger,Microsoft Teams and more as you require.Request A DemoThe smart framing capabilities and the HD camera are all integrated to form one compact package. This makes it simple to set up and easily fits on a credenza. Its HD video as well as crystal clear audio features,erase distance thus putting everyone into the space making meetings efficient and more productive. Lifesize Icon 450 price ranges approximately $4,999.00,which is a little bit expensive that makes people to find other alternatives.Though the Lifesize Icon 450 may be the best for video conferencing,there are three other alternatives which can be used instead. The top best alternatives are ezTalks Onion (the all in one device),Cisco Precision 60 camera and Logitech BCC950.
Top 3 Alternatives to Lifesize Icon 450
To understand more about these 3 top alternatives to Lifesize Icon 450,let review each with its features.
ezTalks Meet S (formerly namedOnion)
ezTalks is a web & video conferencing service provider that its popularity is touching every part of the business world. The company mostly specializes in software and hardware solutions targeting all business levels.
ezTalks Meet S offers users with all-in-one video conferencing equipment and suits any type of meeting in huddle rooms. Many businesses are utilizing this technology to hold meetings live video meetings with employees,clients,suppliers as well business partners.
Let's explore ezTalks Meet Skey features and advantages.
a)All-in-One Design
ezTalks Meet Sas a professional video conferencing tool is designed as all-in-one unit for huddle rooms. It's integrated with powerful software and high-quality hardware. It enables one to easily attend or conduct a virtual meeting with co-workers,suppliers,as well as customers.
b) Great Compatibility
ezTalksMeet Scan be regarded as an open source platform that is compatible with multiple VC software including ezTalks,Microsoft Teams,etc. You can expand and upgrade your conference room with both such a piece of powerful equipment and your current VC software flexibly within a few minutes in a cost-effective way!
c) Extremely Clear Video
ezTalks Meet Soffers high-quality video without image blurring or color misalignment and reduced contrast. Its lens covers 120 degrees angle thus enabling everyone in the room to be seen from the other video conference side.
d) Built-In Full HD Audio
ezTalks Meet Shas a powerful built-in dual microphone that offers enhanced voice performance. It eliminates all the background noises to give maximum clarity since has echo cancellation as well as noise reduction features.
e) Capable to Hold Many to Many Meetings
ezTalks Meet Susers are able to enjoy many to many video conference. Many people can join single meeting session and interact with each other simultaneously. Participants can verbally communicate or interact through live instant chats and emotions.
f) Interactive Whiteboard
The embeded ezTalks software offers digital whiteboard that enhances greater collaborations during the meetings. While on whiteboards,the participant can share ideas via sketches with tools such as highlighters,texts,erasers,pencils among others.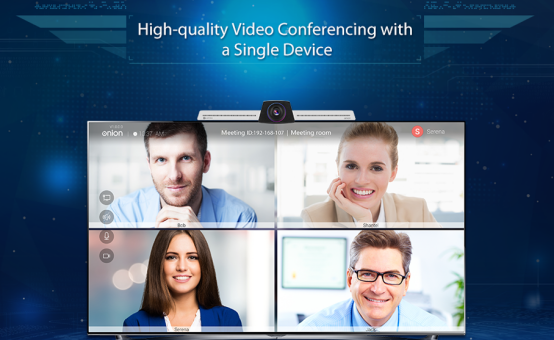 g) Instant File and Screen Sharing
This is another great feature in ezTalks Onion suite. With it,users can easily share images,audio/videos as well as powerpoint in real time. This can be done via a simple click or tapping a button.
h) Recording and Playback Ability
With ezTalks solution,users can record various important ideas during meetings so as to review later via playback for better understanding.
Why ezTalks Onion?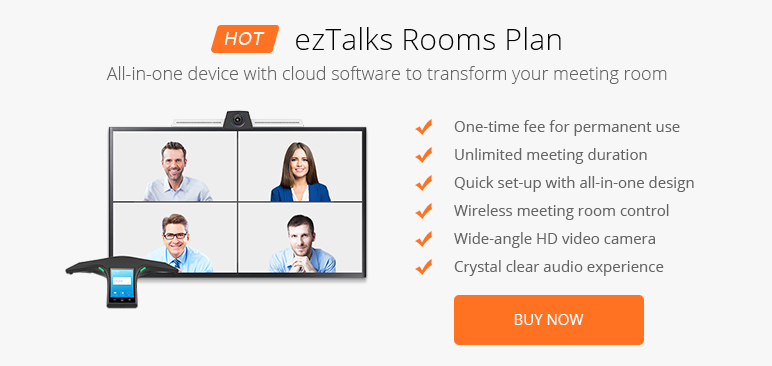 It has a range of tangible benefits. Its advantages can be short terms,long terms or both. Here are some of the main ezTalks advantages enjoyed by a business that has incorporated it.
• Improved Collaboration
• Greater flexibility
• Improved Cost-effectiveness
• Enhanced life like Ultra HD video communication.
The price of ezTalks Onion solution is only $699 which seems to be the most cost-effective solution for most of the start-ups. More price details can be viewed here.
Logitech BCC950
Logitech boasts of its high-quality peripherals. It offers best features for video conferencing for small and medium groups. Among features that make it suite small and medium groups include:
• It's an all in one design,thus making it easy to use and space saving.
• It's a plug and play device and it's convenience with windows as well as Mac.
• Offers high-quality audio from full-duplex speakerphone and high-resolution quality from the monitorized camera.
The price for camera is $269.99,whichi is much cheaper than Lifesize Icon 450.
Cisco Precision 60
The Cisco Precision 60 has high-quality features. It offers the best clarity during video conferencing. This camera offers high-level flexibility to easily integrate into boardrooms,meeting rooms as well as special industry projects. This camera suits both small and medium,groups for video conferencing. Besides,it also offers high definition video with clarity and sharpness.
This camera price goes at £4,448.99 VAT excluded and £5,338.79 VAT included.
Conclusion
ezTalks Onion solution has the ability to give a video conference system that any level of business can adopt. From all-in-one design to full-HD video and audio quality as well as many-to-many video meeting,interactive whiteboards among other desirable features on this system.
ezTalks Onion users enjoy better communication,greater,and improved collaboration. Small and medium groups can use ezTalks Onion cloud meeting,and easy to use video conferencing software,to make communication between employees,partners as well as clients better. Don't hesitate to buy this software and you'll have solved videoconferencing problems once and for long.