Feature Spotlight: Online Whiteboard
Today we are going to brief that what is an online whiteboard and how it can help you in your working and personal life.
What is an online whiteboard?
Online whiteboard is a tool that can be used for different purposes at particular times. White boarding is used to communicate through the web for your convenience and it clears the obstacles of communication,even the communicators are at a distance. It is more likely a typical drawing program on your computer that helps you manage with tools as per your needs.If you have to conduct an important business meeting being far from the other members or co-workers,then you can use the online whiteboarding feature to increase the productivity and efficiency. It has a lot of the features to use that will help you to hold your meetings successfully. At the same time,more than one person can use the white boarding feature to communicate. This is one real meaning to be used for your professional business.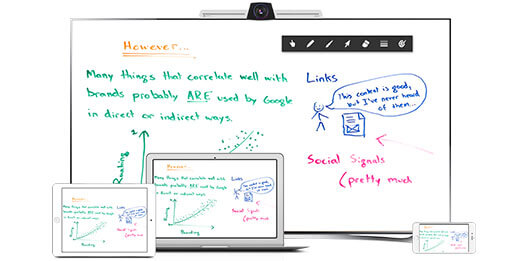 Online whiteboard features
The basic features/functions of an online whiteboard are mentioned below; these features will help you to make your official meetings convenient online. All of the primary functions will be discussed one by one.
Drawing lines
An online whiteboard helps you to draw lines on the screen to explain your point of view more clearly with the help of this feature. It will help all of the meeting members to elaborate the task by drawing it on to the whiteboard online. Such features make your official meeting more interesting and meaningful.
Create shapes
While holding your business conference through an interactive whiteboard,it is important to have a feature of drawing shapes. Shapes indicate and elaborate much more than the words and by that,the impression of the speaker gets stronger.
Use of colors
You can use different colors to fill in shapes,to make them more expressive. Colors filling feature allows you to communicate more effectively. If you have to explain any new term to the meeting members,you have to say a lot on it to make them understand,but when it comes to color filled image,shape or an canvas,it says in a much better and effective way.
Text tools
Text tools mean that you can have different options to change the format of the text while using an electronic whiteboard. This function is also very helpful as the text formatting becomes a barrier at times. So,if you are hosting your meeting through online whiteboard,you can change the format of text if any problem occurs.
Conclusion
So these are all of the features which can be used while hosting your meetings through online whiteboards. All of these functions will definitely help you to host successful meetings or business conferences online. To add more convenience to your online conferences,you can also checkout global leading video conferencing solution provider named as ezTalks.
This company offers you the best number of features to ease your conferencing around the globe. Their products are quite handy for online meetings you have to organize. After all of the research and analysis,this is proved that in today's world,distances are not an obstacle or barrier to stop you from performing your official meeting through the web. There are several options available to regularize your business reservations through the modern technology.