7 Collaboration Platforms to Boost Your Business
In order to grow your business,there are some very essential external factors that need to be kept in place. An effective internal structure in your business is one of the vital aspects that determines the success and level of influence your firm will have on the market. As part of an effective business system,a proper information and communication structure plays a major role in keeping your business firm intact and up to date. A collaboration platform,for example,is an important tool every business setup needs,to call it a success. If you are looking forward to transforming your business into that multinational organization,you are just in the right place. Read on to get started.
What Is Collaboration Platform?
Enterprise collaboration platform is nothing new in the business world. It's more of a household name that's necessary for the day-to-day activities. It belongs to the category of business software that works on the social networking and information sharing in a business firm. The main goal of collaboration platform is to boost innovation and data sharing capabilities,so that employees can access and solve problems relating to their areas of interest.A business collaboration platform in any business firm can help increase productivity & solve the demanding productivity challenges. It is quite relevant if you are looking forward to keeping your workers connected anytime,anywhere and on any given device. It also builds stronger and closer bonds among employees,which creates more personal communication with the clients,partners and other prospects in the business. Besides,it builds teamwork and encourages creativity. This boosts gains and the amount of energy channeled towards achieving the business's goals and objectives.
The Features of Collaboration Platform
Every collaborative platform should have some set of features to ensure an intuitive customer experience.
# User-friendly interface. As part of making things easier for the average consumer,the type of technology used shouldn't be too complex. The company should target on removing any barriers that might challenge the prospects as they try to access their products and services. A clean,distinctive and modern user interface will always provide an immediate value and purpose for your clients.
# Mobilized platform. A social collaboration platform should have a more flexible system such that most people can access your business firm through their Smartphones and mobile gadgets. The use of PCs,has now been overtaken by real-time live chat and video calls via Smartphones. The availability of various mobile enabled apps that are geared to promote business makes marketing more efficient. Any business collaborative platform should take advantage of the mobile enable websites,so as to reach more people easily and gain a lot from the digital era.
# Real-time conversation and data sharing. An effective team and social collaboration platform will always work to improve your business communication system. Real-time communication is the new trend in the market where your clients get help and any form of assistance via live chatting and video conferencing from the relevant personnel. A very similar and effective system can also be used among employees where they can communicate in real time with their colleagues.
Best Enterprise Collaborating Platforms
Here are some of the best seven enterprise collaboration platforms with the best of products and features that will see to it that your business grows in terms of size& productivity with a wide speculation in the market.
1. ezTalks Meetings
ezTalks Meetings is undoubtedly the best collaboration platform you can luckily get in the market. It goes further to ensure consistent and effective connections in every corner of the globe. The plans and services are geared towards productivity and are all well tolerated by most devices.
It works well with Mac,Android,Windows and iOS. It supports a collaboration of up to100 participants simultaneously for every forty minutes with free of charge. With a combined HD video and Audio conferencing,ezTalks Meetings supports content and screen sharing,user management,meeting scheduling,interactive whiteboard sharing,remote control,reporting,recording and playback,and more.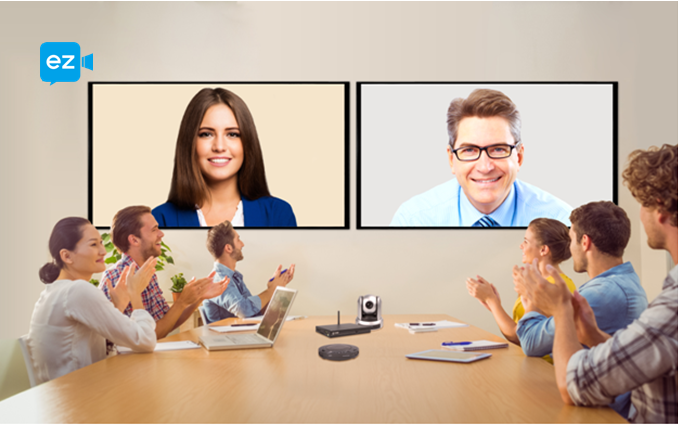 2. Dapulse
This is a responsive interface that has access to some of the most advanced collaboration tools. This collaboration platform has a well-optimized interface that comes handy with most devices and can be successfully connected with popular apps,such as Zapier,Dropbox,Slack,Gmail,Google drive,etc. Dapulse is among one of the highly rated collaborative platforms in the market and still comes in a pocket-friendly pricing.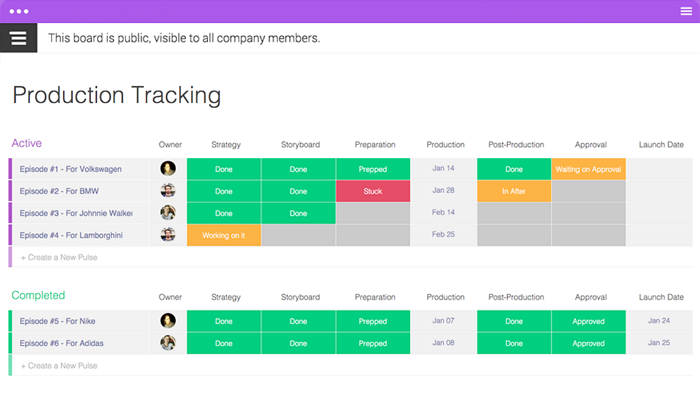 3. Confluence
Confluence is a content collaboration platform that can transform your business into another new level. With a very simple and user-friendly interface,Confluence is dedicating to boosting productivity in your firm through several ways. From document management,page & file versioning,effective feedback system to the accommodative pricing,it's all you need to get started. With a lot of features and unlimited resources,you can explore the unknown and make the rather impossible happen.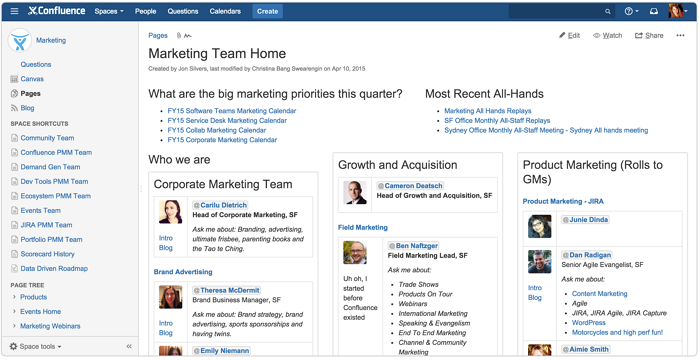 4. Scoro
Scoro is a comprehensive collaboration platform where you can manage your firm's project,do some planning and run your entire business successfully. This is effective client-base collaboration software that has access to several features from the to-do lists,notifications,reports,sales performances,time & billing tracking to the massive automatic task assignment. With it,you can manage your firm from a single place.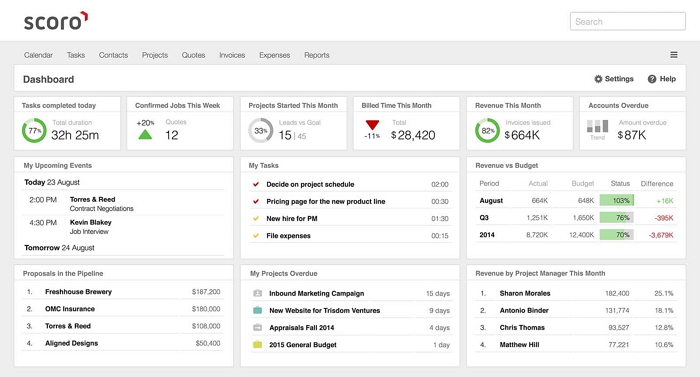 5. Fleep
This is a popular messenger that's been built for project collaboration,live chatting,and task scheduling. Fleep software comes with various features that include effective integration with Hangouts features,group chatting,data sharing with Google hangouts and capabilities to pin messages to every single conversation. Fleep is most appropriate for collaboration via email,hangouts,and Fleep.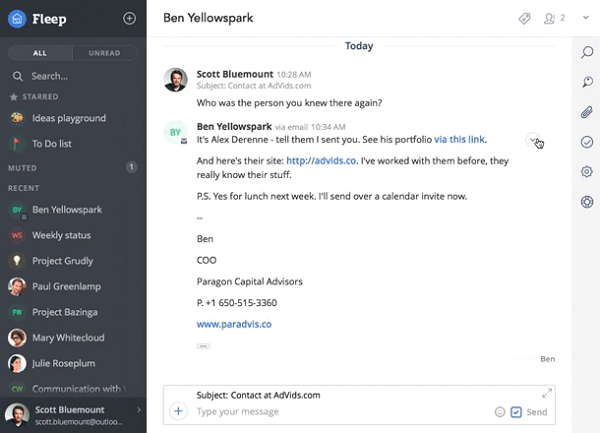 6. ProofHub
ProofHub is more of a communication tool where an entire team can share and discuss ideas and issues of interest. This business collaboration platform is more like business management software with features such as online group discussions,track & report projects and the ability to save & share files with other platforms.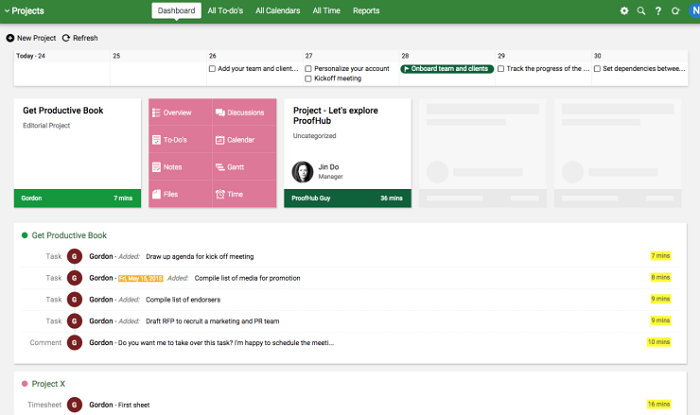 7. Slack
Slack is a renowned team collaboration software that keeps a group of people connected. Though this software,you can set up notification and slack channels to increase the team's productivity and run the entire task smoothly. Some of the key features include reminders,team chats and access to Dropbox & Google Drive for file transfer. This is a very useful shortcut that increases the team's productivity.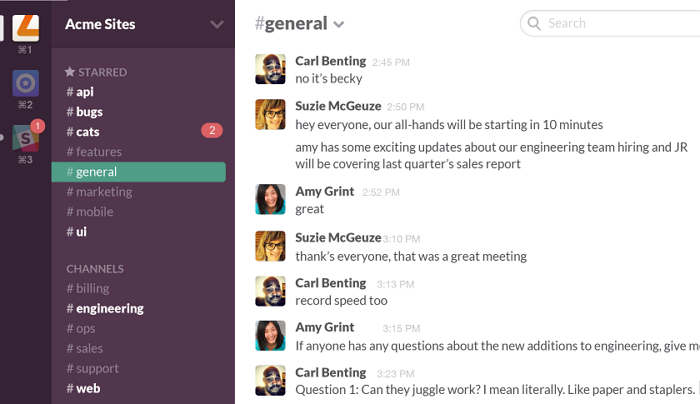 Conclusion
From strategic planning to implementation of the business ideas,an enterprise collaboration platform is all you need. With its help,you can solve several problems by promoting a very effective and consistent communication. Eliminate some of the problems and barriers in your firm by choosing one of these platforms and stand a chance of making your dreams a reality.