6 Best Platforms for Interactive Online Training
In large, medium, and small organizations, it is imperative to arrange for training sessions for its workers, especially if most of them are working from remote locations, to improve their productivity as well as workability. Besides, training conducted outside a classroom is also useful for teacher-student interaction. By and large, online training is increasing steadily across all industries, which means platforms that enable seamless virtual training is inevitable.
With the advent of computers and technology, interactive online training solutions have as well been developed to provide easy access to online courses anytime irrespective of geographical locations of both the learner and the trainer. Despite the fact that most of these tools require users to pay to access the service, there exist a good number of free online training solutions, which means setting a remote training session is not only efficient but also cost-effective.
When selecting an interactive remote training platform, it is advisable to understand the outstanding features of each particular product, so you can make an informed decision that best suits your training requirements. Here below are six best online interactive training platforms with their features for your perusal:
1. ezTalks Meetings
ezTalks Meetings is a software that has been designed to take online training a notch higher as it offers a complete solution for any form of virtual training. It works excellently on PC, Android, Mac, and iOS devices. The product allows trainers to conduct free online training with up to 100 people irrespective of where they are. The crystal audio and high definition video delivered by the above platform makes online training progress seamlessly and smoothly.
ezTalks Meetings has other features apart from high-quality video and audio components. It includes screen sharing for demonstrating ideas, interactive whiteboards for sketching ideas, and text messaging option for interactive with tutors and other learners.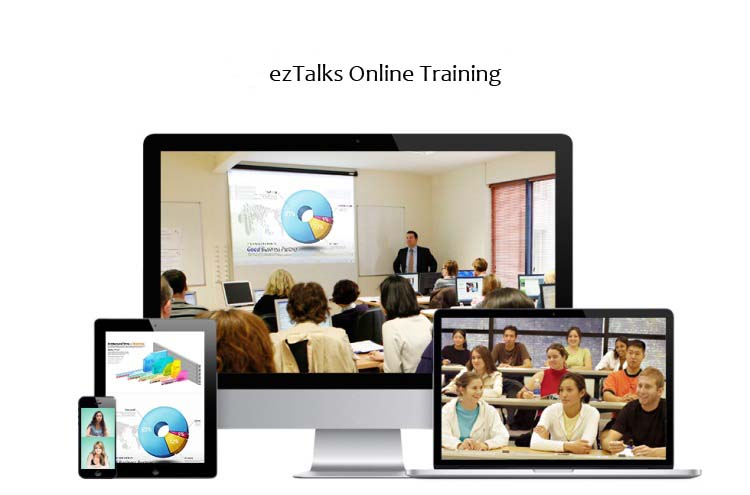 2. Fastmeeting
Fastmeeting is the No.1 video conferencing provider in China. It provides high-efficient, simple and cost-effective product for online meeting, training and education. You can get instantly connected with your global teams for real-time video communication and data sharing via your desktops or mobile devices easily! 
It distinguishes itself with quite a lot of features, including:
1) Fluent HD Video and Audio. It provides 1080P high definition video quality and the nondestructive voice transmission of labial synchronism by various advanced audio technologies, Fastmeeting delivers the "face to face" immersive meeting experience.
2) Fast Data Sharing. Whether Office files, PDFs, applications or video files, all of them can be presented to all participants simultaneously. The clarity is guaranteed by advanced vector technologies.
3) Multiple Interactive Options. Multiple roles to have group chats, private chats and raise hands to speak, with multiple communication ways such as texts, videos and audios.
4) Feature-Rich Meeting Controls. Rich features for meeting controls like multi-level management, recording, roll call, subtitles and video loops, etc. to deliver an on-the-spot meeting experience.
5) Cross-Platform. Enjoy online meetings on Windows, Mac, iOS, or Android system. And connect people via different devices seamlessly without any hassle.
3. ReadyTalk
ReadyTalk is another versatile solution that provides efficient and reliable virtual training sessions. Although the product lacks the breakout session feature, it has other excellent features that make it appear in the list of reliable interactive training platforms.
ReadyTalk has a 'Raise hand' function, which is a unique feature used by learners to interact with the trainer. Other features include annotation tools, appoint co-presenters, Q & A sessions, VoIP, customized branding, integrated audio conferencing, integrated video conferencing, session recording function, automated reminder emails, extensive reporting, and interactive polling.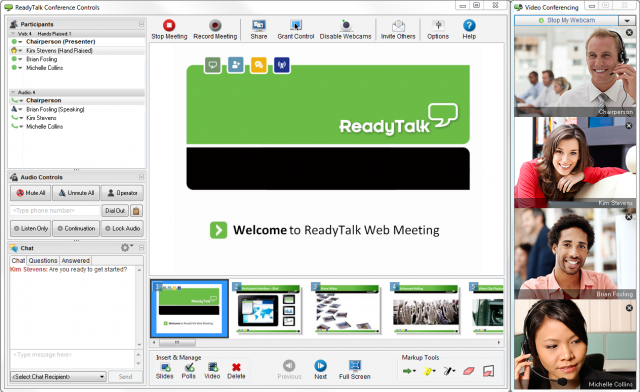 4. Zoho ShowTime
If you are looking for a free online training platform, then Zoho ShowTime may be your choice. Showtime is one of the best tools that allow tutor access, engage, and preset the talents. The product avail quick feedback, actual time polls, and virtual questions & answers to connect learners with the trainers. Descriptive analytics helps to check the sessions as well as enhancing the training.
With Zoho ShowTime, online training sessions become extremely interactive bringing to life the conventional face-to-face training. Other features making the above product significant include the capability for tutors to see the slides on the gadgets, comment, ask questions, and much more.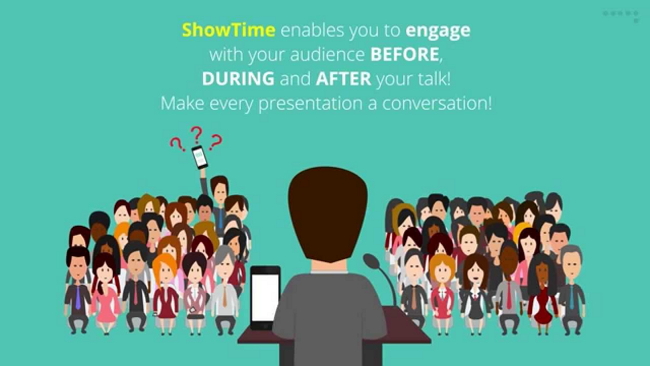 5. GoToTraining
GoToTraining is a product developed and marketed by Citrix, one of the world-known software developer company. It is a cloud based remote training software that allows trainers to record training sessions and use them later for training and e-learning sessions. The product is well secured and provides easy-to-use interactive features.
Some of the best in class features of GoToTraining software include file sharing, screen sharing, add-trainees option, live video streaming option, stream YouTube videos, and much more. The solution runs well all the main operating systems as well as in PCs and mobile devices.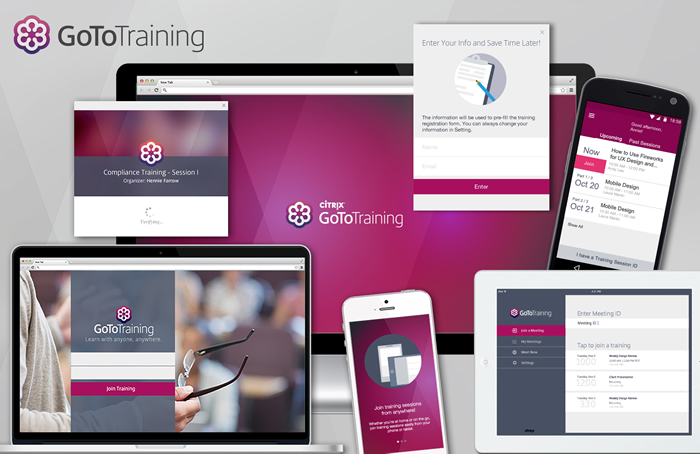 6. AdaptiveU
AdaptiveU is another great interactive training online platform that is often available in the most reliable list of the best virtual training software. The product is more suitable for organization environment with new employees, as it will help them achieve personal development in their working areas. The above tool is a cost-effective remedy to get new workers up and running in the shortest time possible. The solution eases the procedure of onboarding through exclusive courses presented in the form of videos, quizzes, presentations, and web links.
The platform is trackable and scalable, which assist managers in checking the progress of their staff. To expedite competitiveness, employees who effectively complete the challenge in the online training tool are often rewarded with scores.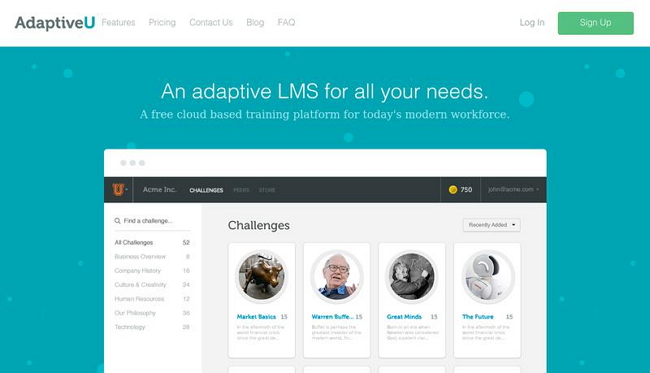 Conclusion
The list of the best interactive online training platforms is just endless, but the above mentioned are just a few. If you are planning to conduct virtual training (whether for students or employees), it is important to access and review different kinds of online training solutions before choosing the one that best meets your preference and needs. More importantly, most of these platforms come with a free-trial version, so you can test each one of them before upgrading to premium versions if it is a pay-to-use solution.