The Top 6 Video Conferencing Equipment in UK
The modern workplace is more convenient and fragmented than ever. You can work on the move,from home,and from any of your preferred places. Both small and large businesses are relying on the video conferencing equipment to facilitate collaboration among the employees working from remote places. Video conferencing equipment frees the employees from the shackles of an office chair. It enables them to participate in office meetings without ensuring physical presence. Now wide a range of video conferencing solutions are available in UK to meet the unique demands of the offices and businesses. It does not matter you are running a small and big organization in the UK,you can get a suitable video conferencing equipment to meet your unique demands. To help you to find out the best video conferencing equipment UK,followings are the details of top 6 video conferencing equipment in the UK.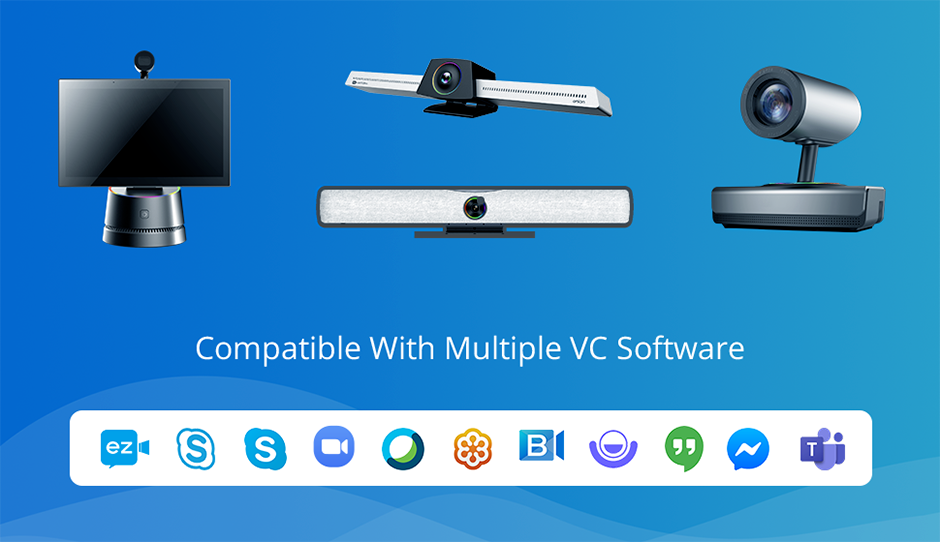 ezTalks Hardware
Supports Multiple VC AppsezTalks all-in-one video conferencing devices work with most popular VC apps like ezTalks,Skype for Business,Skype,Zoom,WebEx,GoToMeeting,BlueJeans,Lifesize,Google Hangouts,Facebook Messenger,Microsoft Teams and more as you require.Request A Demo1. ezTalks RoomsezTalks rooms come in the first position for its unique features and different plans. If you are looking for a cost-effective solution and easy set-up,you should never think beyond ezTalks conference room solutions. It has a professional hardware,optimal and high-quality videos,wireless content sharing,cloud-based software,cloud recording,and easy setting and control. This tool can integrate with everything needed for a high-quality video communication. You can start a video conference with up to 16 people. ezTalks rooms offer corresponding solutions to four types of rooms. These are Mini Rooms,Huddle Rooms,Small Rooms,and Middle Rooms.All ezTalks rooms hardware with surprisingly great compatibility allows users to choose their preferred VC software like ezTalks,Microsoft Teams and more as required.

The Meet Miniis perfectly designed for mini rooms or personal rooms with up to 4 people,which will automatically focus on the active speaker in the meetings. All you need is the Meet Mini for your instant meetings,since its all-in-one design with camera,mic,speaker,display,codec,software and wifi. You can take it any where you want as it has a built-in battery for the energy consumption.Besides,the ezTalks Meet S (formerly namedOnion)is the all-in-one solution for huddle rooms and Meet Pro is the best video conferencing solution for small conference rooms. The Meet X is designed for middle rooms with up to 12 people. The video conferencing equipment integrated with camera,codec and software delivers the optimum video experience by the 4k camera.The control of these room series is quite simple with any mobile device with Android,iOS,Windows or Mac system. It is really one of the best video conferencing solutions UK.2. Logitech MeetupLogitech Meetup is designed to facilitate video communication with colleagues,especially in a cramped space. It can be the perfect video conferencing solution UK for all those businesses that need frequent video communication among remote employees. It can suit well to small weekly team meetings. It has a terrific mic,speaker audio,and super-wide viewing angle to enhance your conferencing experience. You will appreciate the zoom capability. It will enable you to set an image to match your conferencing room. You can make the adjustments with the remote control that is easy to manage. You can use the remote control to mute the microphone and hang up a conference call. The downside is the price. You might find the setup a bit complex as well.3. Polycom RealPresencePolycom UK is a popular name globally. It is widely used for different types of businesses across the globe. It ensures telepresence UK,and facilitates video conferencing between different functional groups,business units,and within the functional teams. This equipment enables the users to connect with colleagues more effectively on key topics. Polycom RealPresence is highly appreciated by the users for quality videos. It offers a unique visual and audio experience like no other. You will love the groundbreaking visual communication,crystal clear sound,and a fully scalable modular design. All these features make this equipment suitable for all types and sizes of businesses.4. ConnectWise ControlConnectWise Control is powerful communication equipment that offers remote control capability. It can be customized to fit your business. This equipment enables the users to start video conferencing and run sessions with simultaneous collaboration with multiple users. You can customize the software to fit your business. You can also control other devices remotely and can adjust the security settings. It offers great multilingual support. It is easy-to-use and easy-to-setup. It starts at a reasonable price. But you need to spend much more on improved features.5. TeamViewerTeamViewer allows its users to work from home,office,and aboard. You can share the screen from remote support from different corners of the world. It offers many improved features including service desk integration,session recording tech,remote video and audio,and file transfer. You can use the remote control to restart and print in addition to the usual controls. TeamViewer comes with an easy to use interface and runs thirty different languages to help the users of all over the world.6. GoToMeetingGoToMeeting is simple video conferencing equipment used in the UK to support remote video conferencing. It does not overwhelm the users. This tool comes with some easy-to-use and simple features to be a perfect choice for different types of businesses. Its central focus is on the video conferencing. This tool enables you to arrange a video conference in advance. The attendees can join the conferences for free. It might not have many fancy add-ons. But it can be an ideal solution for simple video conferencing among remote employees.ConclusionThese are the best 6 video conferencing equipment UK. Before deciding on one,it is important to understand your uses and then you can go through the features to know which one can offer you more benefits. If you are looking for an all-time solution,it is better to go with ezTalks rooms.