Benefits of A Huddle Room for Video Conferencing
For successful video conferencing two things must be given utmost importance,one is choosing the right video conferencing software,and secondly,selecting the right place where such a conference can be held. As far as the video conferencing software is concerned,the one that is gaining immense popularity and is chosen by almost every popular company is ezTalks. For the meeting places for such conferences,huddle room is said to be the best choice for most people. Or some suppliers like ezTalks offers the all-in-one video conferencing devices that work withmost popular VC apps like ezTalks,Skype for Business,Skype,Zoom,WebEx,GoToMeeting,BlueJeans,Lifesize,Google Hangouts,Facebook Messenger,Microsoft Teams and more as required.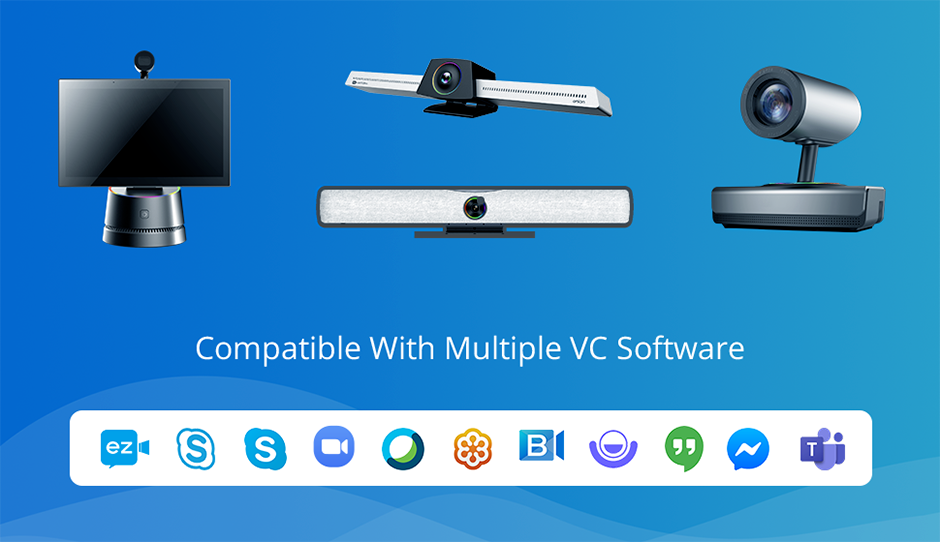 ezTalks Hardware
Supports Multiple VC AppsezTalks all-in-one video conferencing devices work with most popular VC apps like ezTalks,Microsoft Teams and more as you require.Request A Demo
What is A Huddle Room?
Just like the team members of a football team huddle up to discuss their next moves and win the game,a huddle room is a small meeting place wherein the team members can gather to discuss their strategies that can prove beneficial for the company. These are small rooms that can accommodate a maximum of 5 to 6 people and feature some equipment like a LED or LCD monitor,a TV,a center table around which the teammates can sit/stand,a normal or interactive whiteboard,and chairs.
Benefits of A Huddle Room
There are many reasons why huddle rooms are being built in almost every office,and are actually causing great success to the companies. So let us also get to learn about the various benefits that you can enjoy if you too consider creating a huddle space in your office.
1. Save Time and Space
It is common for big boardrooms to be used for small meetings,may be of 4-5 people. Firstly,it looks so weird to host a video conferencing,engaging just a few people in a really big room. Not only is this a waste of space,but also of time,because these boardrooms,at those hours,should ideally be used for bigger meetings.
Furthermore,when two group of people need to hold a meeting in the same boardroom,only one gets the chance and the other has to wait for their turn,which wastes so much time. If instead huddle rooms are created they can be used for quick small impromptu meetings,while the bigger ones can be conducted in the boardrooms.
2. Makes the Attendees Feel Instantly Connected
Small huddle rooms are preferred by most people when it comes to video conferencing,as it makes them feel closed and connected to their fellow members,and they enjoy a better conversation. To get your remote team members connected make sure you use a video unit with a wide-angle camera and large TV screens so that those who are not physically present in the room can instantly feel connected as if they were actually there.
3. It Is Cost-effective
If you plan to hold a video conferencing in a big boardroom then you will have to install equipment accordingly. The cameras you install must be very sensitive and have a good zoom feature so that it can properly display the attendees who are participating in the meeting,and all this does not come cheap.
However,if you choose a huddle room,things are a lot different. Since the available space is small the cost of the equipment need is also less. You will not have to invest in a highly expensive system,and instead got those that are way cheaper. This is also one of the reasons why businesses can easily afford multiple huddle rooms in their office space. In a small huddle room,you do not need an extremely high-resolution camera with 15x zoom,and you can just do with a good video that offers crisp and clear images.
4. No Reservation Required
When fresh and important ideas come in your mind that will benefit the company you want an immediate collaboration. But if you plan to do so in the boardroom you may have to book in advance,at times even two weeks in advance,which makes things difficult. However,huddle rooms are small spaces,and companies build many such rooms in their office,and thus you are sure to find at least one room free for impromptu meetings with your team members,always.
5. Less Stress
When employees want to meet casually and quickly,a properly equipped huddle room proves to be the right place. When small groups get together for projects they are usually broken into teams. Huddle rooms,owing to their space and the kind of friendliness and warmth they create,makes the environment stress-free,and thus it becomes easier for the members to brainstorm freely.
6. Do More with Less
Huddle rooms have a more flexible approach,and work here is done in a far less formal environment,and thus is very different from the big conference rooms that have a complete corporate atmosphere. This makes such rooms very attractive to those who are looking for a perfect collaboration.
Though huddle rooms have a laid back style and are small in size,do not think them to be any less functional. These little spaces are just perfect for holding serious sales presentation,webinars,job interviews,and of course video conferences for which they are most popularly used. Owing to their small size they are also budget friendly. They cost you far less than what takes into installing and equipping a usual conference room,yet they prove to be far more productive.
Huddle rooms are a perfect solution for every business that believes in better productivity in less cost. It will be best to build such rooms at the intersection of your work areas so that it becomes easier for your employees to collaborate quickly whenever needed. If you have lots of unused spaces in your office you can convert them into multiple small huddle rooms,and they will only prove to be beneficial. In fact,many companies move places in order to have more huddle rooms built,so you can well understand how productive and beneficial they are for businesses. So waste no time,have huddle rooms built right away,and enjoy the various advantages they have to offer.