7 Best Virtual Meeting Tools
In the world of technology,you do not need to travel hours to attend meetings and conferences. You can simply attend the meeting from your office or even from the comfort of your home via laptop or your smartphone. Thanks to the virtual meeting tools that made it possible for the employees to be more efficient,dynamic,and punctual.
You can find different types of tools for virtual meetings. Many of them offer a cost effective solution with some improved features. The tools for the virtual meetings allow the users to start or join meetings virtually online. Moreover,you will be able to share your files,documents,images,and many other things to increase the productivity of your business.
Do you want to use virtual meeting tools to boost the productivity of your company? Are you looking for a cost effective solution? If yes,then you can consider the following 7 tools for virtual meetings.
1. ezTalks Cloud Meeting
ezTalks Cloud Meeting is known as one of the best virtual meeting tools widely used by the small and medium sized businesses. It allows you to work smoothly via your desktop or mobile devices irrespective of your current location. It offers crystal clear sound and high-definition videos to arrange flawless meetings.Some of the key features of ezTalks Cloud Meeting are the whiteboard sharing,screen sharing,private or group chat,meeting scheduling and unlimited numbers of the meetings. It can also help you to record your meeting and then play back later depending on your requirement. It offers both the free and the paid service. With the free service,you will get some basic features. If you want some improved features,then consider a paid service. For the paid service,you only need to pay $12 per month.Surprise!ezTalks Cloud Meeting hold a preferential activity recently - Buy 1 year,get 1 year free.Don't hesitate to seize the moment!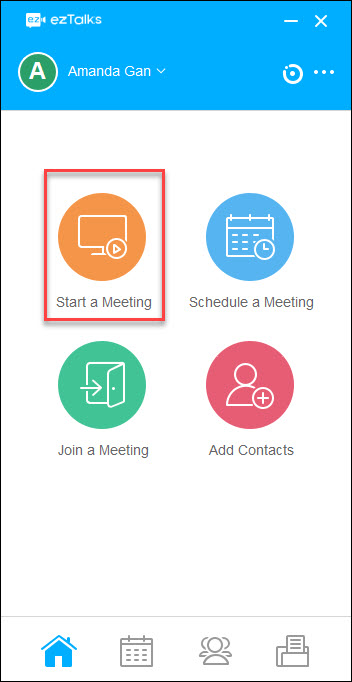 2. Google Hangouts
Google Hangouts is also a tool for virtual meetings,specifically designed by the Google to enable you to initiate and participate in the meetings through different channels that include voice chats,text,as well as Google video conferencing call.
It is mobile-friendly and can be integrated into the Google + and Gmail. Though it is extensively used by the non-commercial users,still,it is considered as one of the most effective tools for virtual meetings.
Some of the key features of the Google Hangouts are the recording of the meetings,video calls,intelligent muting,instant messaging,group conferencing,compatibility with multiple devices,and integration with other Google application. It is affordable. You just need to pay $5 per month.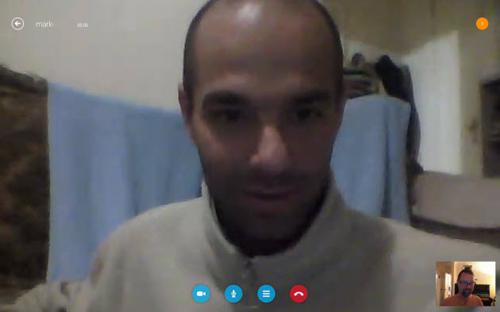 3. ReadyTalk
ReadyTalk provides you the perfect solution for all types of your conferencing needs. It offers instant technical assistance. It allows you to hand over the control to the attendees of the meeting. It also helps with the real-time polling features. It supports all types of conferencing,including mobile conferencing,web conferencing,and video conferencing.
Some of the key features of the ReadyTalk are instant technical support,private and group discussion,videos,chat with multiple groups up to 100 participants,stream up to four video feeds,and integration with Outlook,Marketo,Salesforce,Lync,Google Calendar,and some other popular virtual tools. You will have to spend at least $24 per month for this tool.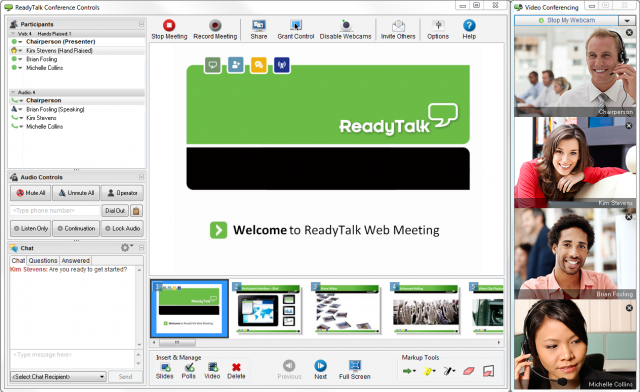 4. Zoom
Zoom is popular for some improved features like a collaborative whiteboard,different views for multiple monitors,and the ability to choose a gallery view or full screen for the video streams. It offers both the paid and free versions. It is mobile- friendly as well.
Some of the key features offered by Zoom are group texts,unlimited number of the meetings,unlimited number of the private calls,screen sharing from the desktop and the mobile devices,video streams,audio and image sharing,and collaborative whiteboard. It also allows joining meetings from your smartphone through WiFi or cellular networks. For the paid plans,you will have to pay at least $10 per month.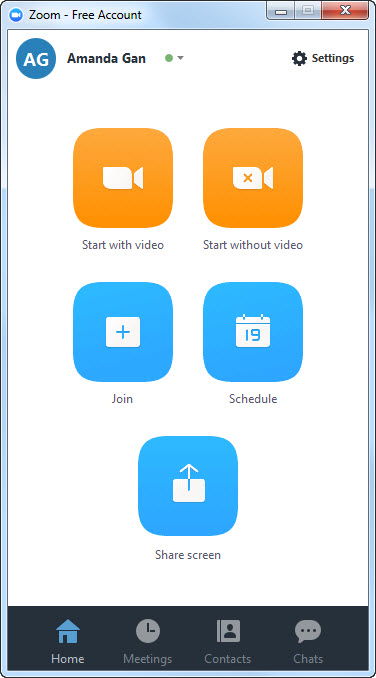 5. join.me
Join.me is widely used all over the world in more than forty countries for some of its developed features. It is easy to use and enables you to instantly connect with the attendees. Moreover,you can also customize the meeting space with the screen backgrounds and custom URLs. You can join the meeting from any of your preferred devices.
Some of the key features of the join.me are meeting recording,instant screen sharing,transferring files,changing hosts,built-in cloud storage,and meeting with multiple groups up to 250 participants. It offers both the free and paid versions.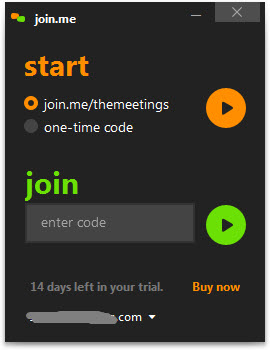 6. GoToMeeting
GoToMeeting is a bit expensive virtual meeting tool than the above ones. It offers international toll-free numbers and helps to translate control settings. It also enables you to change the hosts for the multiple times. For this tool,you will have to spend at least $39 per month. It supports both the desktop and mobile devices.
Some of the Key features of the GoToMeeting are screen sharing,HD-quality video,meeting with multiple attendees up to 100 participants,ability to control the meetings,a collaborative whiteboard,and personalized URL meetings.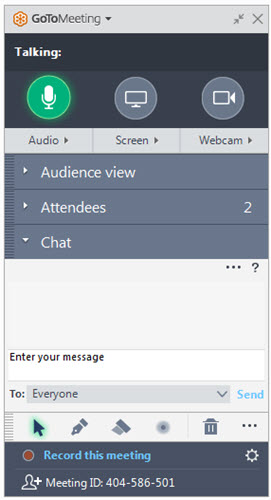 7. Onstream Meetings
Onstream meetings is considered as an expensive option. It charges $49 per month. For the improved features,you might need to spend more. The best thing about this tool for virtual meeting is that you can edit the meeting recordings with downloading your video file. It enables you to share the files to all the attendees or to a selective few or make the documents available for any download after the end of the meeting.
Some of the key features of Onstream meetings are document sharing,shared controls,polling,private or group chats,and meeting with multiple groups up to 1,000 attendees. It is considered good for the large companies that host online meeting with more than 500 participants.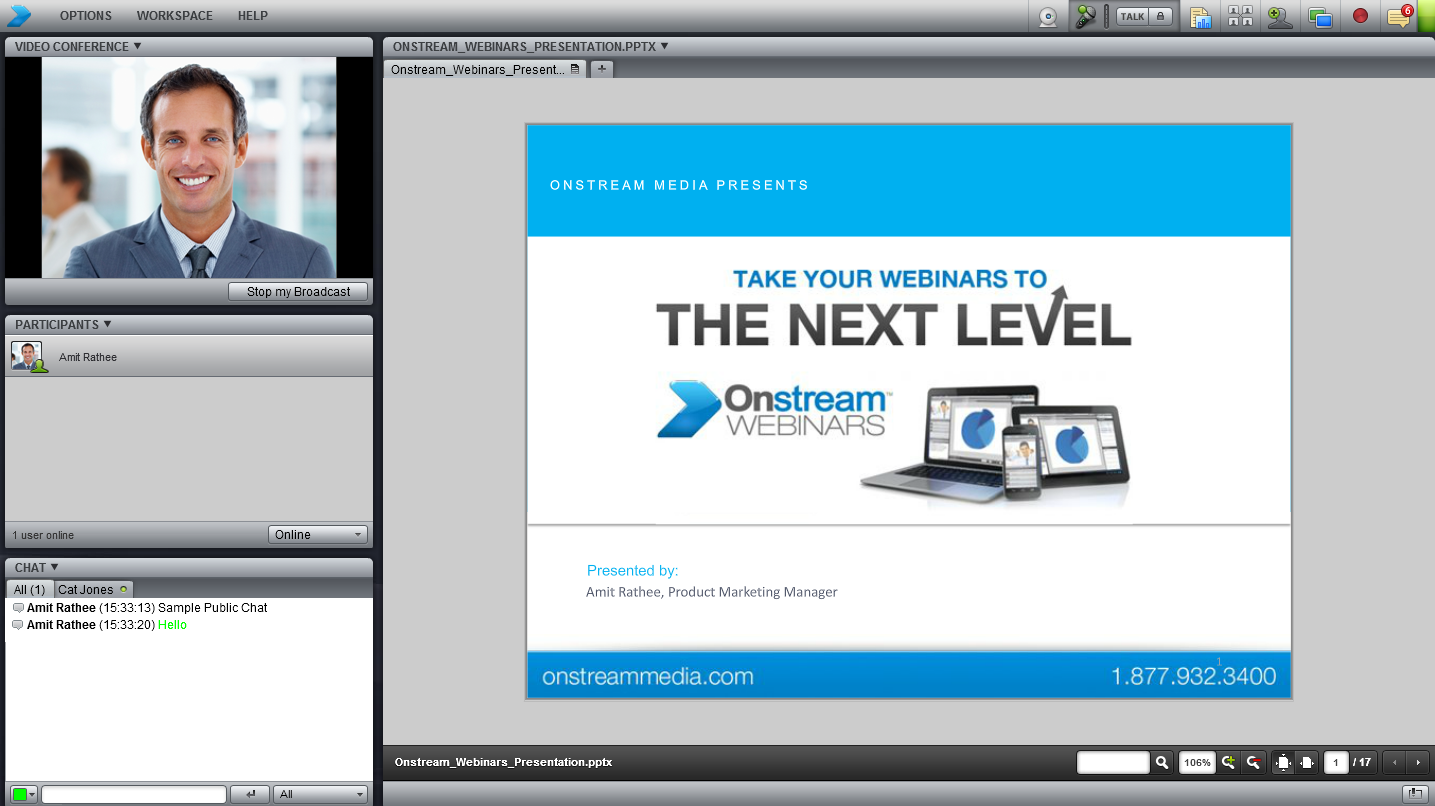 Virtual meeting tools are broadly used for all sizes and types of the companies. These are known as the cost-effective solutions. Moreover,it avoids all the hassles like the traveling and the accommodation. You can simply join the meetings via your smartphone with an internet connection.
All the seven virtual meeting tools are considered effective for all types of the business. You just need to understand your requirements and then go through the features of the above seven to know which one can serve your interests most.